When you're behind the wheel of a dependable vehicle like the Subaru Outback, you assume nothing will go wrong. Unfortunately, even the most reliable vehicle sometimes runs into issues, and when your Outback experiences a problem in Manalapan, Freehold, Englishtown, or Marlboro, it will let you know with one of its many dashboard warning lights.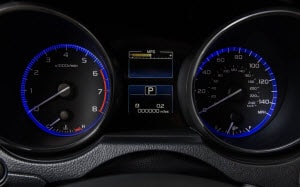 To provide you with the most information about your vehicle possible, the Outback features a multitude of warning lights that will activate when your vehicle is experiencing a major problem. However, if you've never seen one of these lights before, it's important that you get a basic idea of what they might mean. Learn about common warning lights in our 2017 Subaru Outback Light Guide and discover which lights mean you should be sure to service your vehicle.
Common Yellow Lights
Similar to the yellow light on a stop light, the yellow lights you may see on the dash of your Subaru Outback mean you should proceed with caution. Not all of these lights indicate you need service, but they do all mean that a serious situation may be developing inside of your vehicle. Subaru Outback yellow lights can include:
All-Wheel Drive: If your Outback has been equipped with an all-wheel drive system, you may notice an "AWD" light activate if there is a problem with this system. While this can sometimes be caused by very low tire pressure, it will usually need to be examined by a service professional.
Coolant Temp: If the temperature of the coolant in your Outback gets too high or too low, a light that looks like a thermometer will activate. Either allow your engine to cool down, or heat up your coolant by driving your vehicle.
Low Tire Pressure: If one of your Outback's tires gets too low, a light that looks like an exclamation point inside of a flat tire will activate. Refill your tires when you see this light.
Red Lights That Deserve Your Attention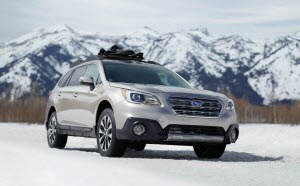 When there is a major issue with your Outback, you will almost always see a red light active on your dashboard. If this light is flashing, you need to schedule maintenance services as soon as possible. Red warning lights on the Subaru Outback can include:
Oil Pressure: If the lubricating system in your Outback is inactive due to low oil pressure, you will see a red light that looks like an oil lamp.
Steering: If there is ever a failure in your Outback's power steering system, it will be indicated by a light that looks like an exclamation point and a steering wheel side by side.
Braking: An exclamation point inside of a circle means a problem with your brakes that needs to be immediately serviced.
Battery: A red battery light means the charging system in your Outback is not functional.
Get Help with Your 2017 Subaru Outback
When you see a warning light on the dashboard of your 2017 Subaru Outback that needs immediate attention, you should bring your vehicle to the Freehold Subaru service and parts department. Our team of car service experts can find the issue with your vehicle and get you back on the road in no time at all.
Freehold Subaru is your number one source near Englishtown, Marlboro, Manalapan, and Freehold for dedicated car service and a huge inventory of new and pre-owned vehicles. Schedule a service appointment with us today!