Subaru Battery Replacement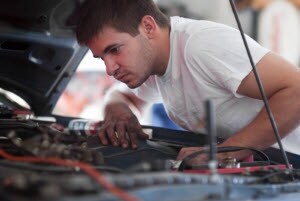 At Freehold Subaru, our certified car battery experts know that when your battery decides to retire, you might not be given much of a warning. That's why our Subaru service center offers comprehensive and convenient battery replacement services to local drivers in Freehold and the surrounding coastal New Jersey areas of Monroe Township and Farmingdale. With a state-of-the-art facility and genuine parts always in stock, our service center is dedicated to getting you back on the road as quickly as possible.
If you think you might be in need of a battery replacement soon, ask yourself the following questions and come see us for a fast and efficient replacement!
How Old is Your Car Battery?
Battery age is a crucial factor to take into consideration when evaluating the performance of your car battery and its projected lifetime. Though the typical battery can live 5 years or more in good condition, depending on your personal driving style and the roads you normally travel, this lifespan can be significantly shortened to as little as 2 years in extreme cases.
If your car battery is approaching year 3 or older, we recommend drivers bring their cars in for a battery check-in.
Is Your Car having Electrical Issues?
You're zipping down Route 9 in Freehold on a sunny summer day with the windows down and your tunes at full-volume, when the radio suddenly cuts out. Now that you test it, your power windows have lost their power too and a fluttering check engine light is your final clue.
Wavering electrical components are an indicator you shouldn't ignore: get your car in for battery service ASAP.
Any Troubles at Ignition?
A car battery on the edge of extinction won't let your car start without a fight. If your car issues a deliberate crank at startup and seems to be struggling to turn over, it's probable that your battery is running off of a low charge: a sign that it could need replacing soon.
Can You See any Visible Corrosion or Swelling?
If you suspect your battery to be acting up, take a look under the hood to assess the situation. Any corrosion built up around the battery's terminals point to a problem with leaking and means your battery most likely needs to be changed out.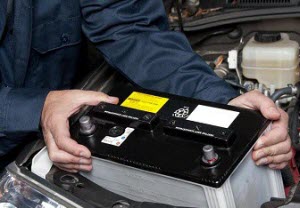 If it looks as if your battery is bulging from its case, there's a chance that it's running too hot. Overheating can cause the battery to swell and greatly diminish battery life. 
Driving a car with a weak battery is dangerous not only because you could end up stranded, but a weak battery tends to put undue strain on healthy components of your car's electrical system in order to run properly. The sooner you bring your car in for service at the signs of a weak battery, the better chance you have of getting where you need to go without an unexpected breakdown.
Freehold, Farmingdale and Monroe Township drivers can schedule a Subaru battery replacement appointment online with Freehold Subaru's service center for professional battery inspections and replacements when you need it most!
 Winter Car Battery Maintenance