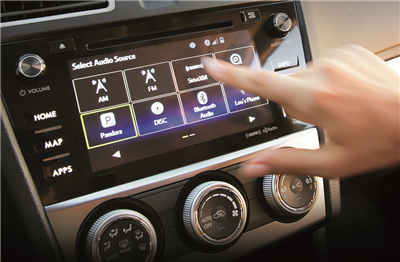 For drivers in the Freehold, Farmingdale and Marlboro area who have recently purchased a Subaru, you may be looking for some extra accessories to add to your new vehicle. We're going to give you a list of the most popular Subaru Accessories that offer comfort, convenience and safety.
Auto Dimming Mirror - Subaru offers several different levels of an auto dimming mirror. Isn't it annoying when someone who's driving behind you has their high beams on, and it practically blinds you when you're driving because it's being reflected in your mirror? These mirrors will reduce that light so that you don't have to squint while driving. There are various levels that you can purchase, some of which offer a compass that syncs to your Subaru's Homelink® system.
Battery Warmer - This device is great for winter driving. During cold weather, your battery can suffer due to the temperature, which may result in it not being able to keep charge or function properly. The Battery Warmer does exactly what you think. It keeps your battery warm so that you're able to start your car on those frigid mornings.
Car Cover/Bag - If you want to keep your Subaru looking new, and protect it from the elements, then you should get the car cover. This well help keep the coat on your car's paint looking fresh as it prevents rain, snow and bird droppings from pelting your car. You can also purchase the cover bag so that you can place the cover somewhere without having to fold it up and store it somewhere.
Cargo Tray/ Cargo Organizer - Make the most of your cargo space with either the Cargo Tray or the Cargo Organizer. The Cargo Tray not only helps you store items, but it protects your trunk from stains and dirt. The Cargo Organizer is perfect for carting groceries or outdoor gear. It also collapses, so finding a place to store it is easy.
Engine Block Heater - This device is also helpful with getting your car started in the winter. It charges in any household electrical outlet. This device warms up your engine coolant to allow an easier start for your car during freezing weather.
Genuine Subaru Roadside Emergency Kit - Subaru vehicles offer great safety, but with the Subaru Roadside Emergency Kit, you can be prepared for anything. This kit includes jumper cables, reflectors and a first aid kit.
Genuine Subaru Severe Weather Companion - This kit features everything you'll need for harsh weather. Not only does it feature a small first aid kit, but it also has emergency drinking water, a shovel, a poncho and various other tools that you would need if you were stuck in weather related situation.
In this article, we showed you some of the many great accessories that you can add to your Subaru. If you're interested in any of these Subaru accessories, then contact our team at Freehold Subaru. They'll gladly recommend accessories according to your specific Subaru model. At Freehold Subaru, we're happy to help drivers like you from the Freehold, Farmingdale and Marlboro area.