The 2021 Subaru Love Promise Customer and Community Commitment Award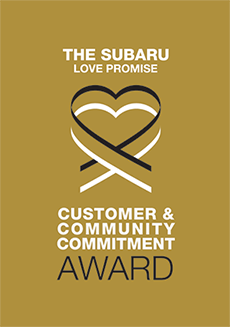 We've been nationally recognized for our dedication to our customers, our community, and the Subaru Love Promise.
We're honored to receive the 2021 Subaru Love Promise Customer and Community Commitment Award. This award nationally recognizes elite Subaru retailers who provide an exceptional customer experience at every interaction with Subaru. These retailers have also demonstrated an outstanding commitment to supporting passions and causes in their local communities in important areas such as the environment, community, health, education, and pets.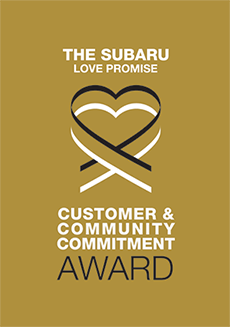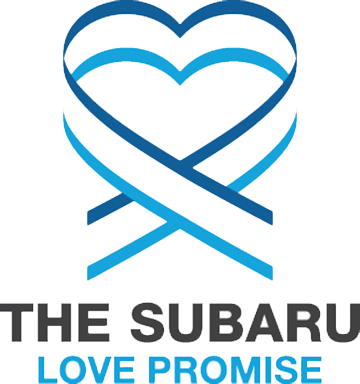 What is the Subaru Love Promise?
Subaru and our retailers believe in making the world a better place and the Subaru Love Promise is our vision of respecting all people. This is our commitment to show love and respect to our customers and to work to make a positive impact in the world.
How is Freehold Subaru dedicated locally to the Love Promise?
Our Love Promise can be seen in various partnerships with local charities and non-profits. We're grateful for the opportunity, not only to be a part of our community, but to serve it as well.
Love Promise Stories from Freehold Subaru
Subaru and Freehold Subaru believe in making a positive impact on the communities in which we live and work. We uphold that belief through our Love Promise Community Commitment. Every month, we select inspiring stories from customers and partners from around our area who strive to support our collective commitment and feature them here
Freehold Subaru sponsors SAGE! - Jonathan B
SAGE is so excited to have earned the support of Freehold Subaru for our SAGE New Jersey Virtual Trivia Extravaganza. Their $2,000 donation was an incredibly generous gift that will directly impact the LGBT elders we serve. Staying safe and healthy during a world-altering pandemic has been tough on a lot of folks this past year and a half – especially our LGBT pioneers. Even before the coronavirus, older LGBT folks have needed to deal with greater health disparities (such as cardiovascular disease, cancer, and HIV/AIDS), social isolation, and lack of support. We are grateful that Freehold Subaru stepped up to the plate with their generous support. Their support means that even in the face of COVID-19, LGBT elders can age with the dignity and respect they deserve. Thank you so much Freehold Subaru!
---
The Raymond Kershaw Youth Humanitarian Award - Jo Ann P
The Freehold Township, NJ, municipal Human Relations Council was formed in 1993 to foster good will, cooperation, and conciliation within our community. The HRC is made up of a group of diverse people from various religious and ethnic backgrounds, as well as representatives of different professions here in Freehold. Each year the HRC presents a scholarship to a graduating high school senior who is a Freehold Township resident, in memory of Raymond Kershaw, a beloved former mayor. The Raymond Kershaw Youth Humanitarian of the Year Award is given to a person the council feels embodies the values in our mission statement. This year, much of the council's discussions have centered on the current struggle to have meaningful dialogue among people with different views in our society. And we agreed that, if we, as Americans, cannot talk to each other, if we cannot hear each other, then our fate as a United States is in jeopardy. One applicant this year, besides his glowing letters of recommendation and his other fine academic and extracurricular accomplishments, wrote on exactly that topic. On June 15, 2021, at an outdoor Senior Awards Ceremony, the Raymond Kershaw Youth Humanitarian of the Year Award, and a check in the amount of $2,000 generously donated by Freehold Subaru, was presented to this young man, Ethan Valliath, a Colts Neck High School senior. The HRC recognizes Ethan's commitment to letting all voices be heard! The Human Relations Council of Freehold Township is very grateful for the continued generosity of Freehold Subaru and council member Steve Boyce in sponsoring the Raymond Kershaw Youth Humanitarian of the Year Award. Thank you so much, Steve and Subaru, for your support this year, and in previous years!
---
Above and Beyond for Big Brothers Big Sisters - Charleen C
We are beyond thrilled by the support of Freehold Subaru and it's customers during the 2020 Share the Love Event. During a year when we needed support the most, Freehold Subaru raised a record breaking amount of funds to support and expand our one-to-one mentoring programs. The funds raised this year will help match over 17 children in our local community with a caring adult mentor change their life for the better. This ongoing partnership has created consistent support that we can depend on so that all youth achieve their full potential.
---
Freehold Subaru Sponsors Center in Asbury Park - Father Robert K
The Center in Asbury Park held their Jersey Shore AIDS Walk on October 4, 2020 and with the support and generosity of Freehold Subaru we raised over $33,000! Due to COVID-19, our 2020 fundraisers were cancelled and a large part of our Ryan White funding was cut. This was our singular fundraiser in a year and Freehold Subaru's sponsorship was needed more than ever to help our clients and residents as they navigate this Pandemic. Our priority at the walk was to keep everyone SAFE! The entire event was held outside and we adhered social distancing. All those that participated wore a special Center/Subaru AIDS Walk mask. With Subaru's support we can continue to provide support services for people living with HIV/AIDS. THANK YOU!
---
FARE Hometown Heroes Walk, Manalapan - Jennifer S
A big thank you to Freehold Subaru for being a sponsor of the FARE (Food Allergy Research and Education) Hometown Heroes Manalapan walk for the past 2 years. With the support of Subaru our walk has raised about $30,000 these past two years for FARE. FARE's Hometown Heroes Community Virtual Walk exists to recognize the courage and determination of food allergy families, and to empower these everyday heroes to end food allergy fears for good. Through widespread fundraising and walks across the country, thousands of families come together to unite behind their commitment to FARE's mission and raise funds that will change their children's lives through research, education, advocacy and broad awareness. We are very grateful to have the support of Freehold Subaru.
---
Freehold Subaru- Driving our Mission Forward - Charleen C
Each year, Freehold Subaru chooses Big Brothers Big Sisters of Coastal & Northern New Jersey as their hometown charity for the Subaru Share the Love Event. Funds raised by Freehold Subaru employees have created and supported over 65 mentoring relationships that ignite the power and promise of youth. These relationships are now more important than ever as our youth struggles with isolation and depression due to the Coronavirus. We are sincerely grateful for our partnership with Freehold Subaru and for the generosity of Subaru of America. Thank you!
---
Another Great Year with Freehold Subaru - Charleen C
Over the past 6 years, Freehold Subaru has chosen Big Brothers Big Sisters of Coastal & Northern New Jersey as their Hometown Charity to benefit from the Share the Love Event. In these 6 years, they have raised over $132,000 to support and expand our mission. These funds have changed the lives of 66 children in our community that needed a mentor and got one, because of Freehold Subaru. Thank you Freehold Subaru!
---
Big Brothers Big Sisters of Coastal & Northern New Jersey - Charleen A
Another great time "Sharing The Love" with Freehold Subaru's "Home Town Charity" Big Brothers Big Sisters of Coastal & Northern New Jersey. Working together for our 5th year! What a great time our staff, valued customers and wonderful Big's and Little's had last Saturday. We got to share some great stories and enjoy an nice lunch. Afterwords these awesome young people and fantastic mentors headed over for fun at iPlay america. Looking to our BEST Share The Love donation to this incredible organization.
---
Helping Kids Reach Their Fullest Potential - Marybeth B
Thank you to Freehold Subaru for their continued support of Big Brothers Big Sisters of Monmouth & Middlesex Counties (BBBSMMC). Our agency received a $23,091 donation through the 2019 Share the Love Event, which marked the 5th year that Freehold Subaru supported our 1-to-1 mentoring programs during the event. Through this valued partnership, BBBSMMC has provided 40 kids with a Big Brother or Big Sister of their own and participated in over 2,000 hours of mentoring. These professionally supported relationships, made it possible for these kids to overcome the obstacles they face and reach their fullest potential. Thank you Freehold Subaru, because of you we are changing kids lives for the better, forever!
---
Subaru employees deliver warmth to RCCA Freehold - michelle e
On June 25th, Freehold Subaru employees delivered blankets of warmth and hope to the patients of RCCA Freehold to let them know that they are thinking of them and they are not alone.
---