As a responsible car owner in Freehold, Englishtown, Manalapan, or Marlboro, you want to make sure you always know how your vehicle is functioning and whether it needs regular or emergency service. The majority of vehicles indicate the need for service with dashboard lights that activate when there is a problem. For example, the excellent Subaru Crosstrek features several dashboard lights that can help you know when there is an issue with your vehicle.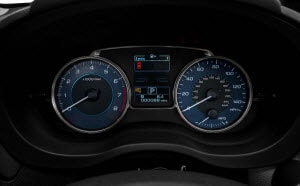 However, because there are so many lights, it can be hard to keep track of what they all mean. Our dashboard light guide for the 2017 Subaru Crosstrek will help you identify common lights that indicate your car needs a maintenance check.
Don't Ignore Yellow Warning Lights
 The most common lights you'll see on the dash of your Crosstrek are yellow lights. While you should always seek service when you see these lights, they usually don't require emergency attention. A few of the yellow Crosstrek lights include:
All-Wheel Drive: When you notice the letters "AWD" are lit on your dashboard, it means there is either a problem with your all-wheel drive system or that your tire pressure is too low. Fill up your tires first and then seek service if this doesn't resolve the issue.
Low Engine Oil: A yellow oil lamp means that your Crosstrek is due for an oil change. Schedule your oil change as soon as possible to prevent engine damage.
Fluid Lights: The Crosstrek features several fluid lights indicating your levels are low. A fuel pump light means you are low on gas, while a light that looks like liquid on a windshield means you need more wiper fluid.
Braking: If the letters "ABS" light up, it means that your anti-lock braking system has been deactivated.
Check Engine: When there is a problem with your Crosstrek's engine, the words "Check Engine" will be visible on your dash.
Pay Attention to Red Lights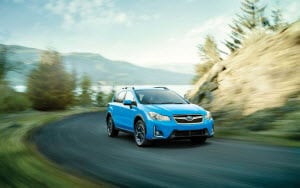 The 2017 Subaru Crosstrek also features several red warning lights. These lights indicate a serious condition with your vehicle that must be checked by a service professional right away.
Common red warning lights include:
Oil Pressure: A red oil can means there is an issue with the oil pressure in your system.
Brake System: When you see a circle that contains an exclamation point, there is a major problem with your Crosstrek's braking system. If this light activates, your vehicle needs immediate service.
Battery Charging: If the battery charging system in your Crosstrek malfunctions, you will notice a red light that looks like a battery.
Power Steering: A failure in your power steering system is indicated by a light that looks like a steering wheel with an exclamation point inside.
Airbags: A light that appears as an airbag deployed in front of a car passengers is used when there is problem with your airbag system. When this light is on, your airbags may not deploy in an accident, so you should seek service right away.
Learn More About the 2017 Subaru Crosstrek
If you notice any of these lights when you're driving around Englishtown, Marlboro, Freehold, or Manalapan, you need to get your 2017 Subaru Crosstrek serviced at Freehold Subaru. The Freehold Subaru service and parts determine can give your vehicle a quick maintenance check and find the issue that caused your warning light to activate. Schedule service with us today!