There's nothing more nerve wracking than taking a leisurely drive around Englishtown, Freehold, Manalapan, or Marlboro only to have one of the lights on your Subaru Forester's dashboard activate. If you're not familiar with the light system in your Forester or if you simply don't know what the light means, it can be hard to know if you're dealing with a serious problem that needs professional service.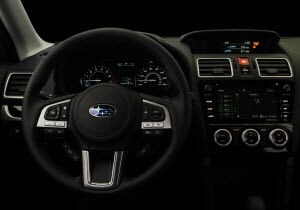 Luckily, learning about the dashboard lights that you might see on your Subaru Forester isn't as difficult as you might think, especially when you have access to the right information. Read our Subaru Forester Light Guide to learn which lights indicate you need to schedule a dealership service appointment.
Learn About Yellow Lights
When a light activates on the dashboard of your Subaru Forester, it is almost always a yellow indicator light. While indicator lights can sometimes mean your car needs service, they do not necessarily warrant urgent maintenance. A few of your Forester's indicator lights include:
Vehicle Dynamics Control: If you notice a yellow light that looks like a car with tread marks behind it, it means that your Vehicle Dynamics Control system has activated. This means you're driving in slippery conditions and should proceed with caution.
LED Warning: If your Forester is equipped with LED headlights, a problem with your lights is indicated by a dashboard light that looks like a headlight with an exclamation point on top.
Hill Start: A light that looks like a car parked on a slope is used to warn you there is a problem with your Subaru's Hill Start Assist system. When this warning light is active, you should be sure to schedule a service appointment.
Coolant: When the coolant temperature in your Forester gets too high, you will see a light that looks like a thermometer on top of wavy lines:
Engine: The words "Check Engine" will illuminate if there is a problem with your vehicle's engine.
Seek Service for Warning Lights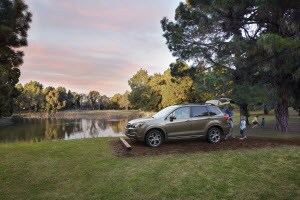 A worrisome situation for many drivers is having a red warning light activate on the dash of their Forester. Typically, red warning lights are used for serious automotive problems, some of which may need emergency service. Forester red warning lights include:
Rear Differential: If you see the phrase "R. Diff Temp" illuminate in your Forester, there is a temperature issue in your rear differential. Do not drive your vehicle when this light is on as this may cause major vehicle damage.
Power Steering: When your engine is on, a light that looks like a steering wheel next to an exclamation point means your power steering has failed. Service your vehicle immediately when you notice this light.
Oil: A warning light that looks like a dripping oil lamp is used for low engine oil pressure. Continuing to operate your Forester when this light is active may result in long-term damage.
Get Maintenance for Your 2017 Subaru Forester
Whether you're looking for a new car or you need service for your 2017 Subaru Forester, your best option is to pay a visit to Freehold Subaru. Freehold Subaru is honored to serve or customers in Manalapan, Freehold, Englishtown, and Marlboro, and we are ready to serve you in whatever way you need. From an experienced service and parts department to a helpful sales staff, Freehold Subaru is your full-service hometown dealership. Schedule service with us today!