Are you looking for things to do in Freehold NJ? Well, Freehold, New Jersey is a beautiful community filled with many unique attractions. Here's just a sampling of what you'll find!
Community Attractions
Freehold is proud of its history and aims to teach residents about its unique past. There are historic site tours you can take to learn more about the city's history. One of these tours is of the West Freehold District, where you can visit a blacksmith's shop at the Oakley Farm Museum. 
The Monmouth County Historical Museum is an excellent place to learn more about the area's past. Currently, they are featuring the Battle of Monmouth exhibit, which includes guns from the Revolutionary War and a Carter painting of Molly Pitcher when she met George Washington.
There are also many historic homes in the area that show what life was like in the 1700s. A perfect example of this is the Holmes-Hendrickson House. Built around 1754, a wealthy farming family lived in this Dutch-style home. The Marlpit Hall was the home of a Loyalist family during colonial times.
Things to Do in Freehold NJ - Local Places to Visit
Downtown Freehold has something for everyone in the family. The summer concert series takes place each Thursday night throughout the summer and features a great mix of musical acts. In addition, the city holds the local farmers market from July 11 through October on Fridays from 10 am until 3 pm. This is a great way to buy fresh produce and support local vendors.
If you want an evening out on the town, there's a great mix of delicious restaurants to choose from, including Chinese and American cuisine. The city also has 45 shops, ranging from bakeries to elegant jewelry stores. Overall, no matter what you are in the mood for, you are sure to find it in Freehold.
To help you enjoy your trips in town in comfort, it's important that you have a reliable vehicle you are proud to drive. Subaru delivers well-crafted vehicles with vibrant designs and exceptional performance offerings, making a Subaru the ideal vehicle to drive through scenic New Jersey. If you are looking for a reputable dealership at which to purchase your Subaru, be sure to visit us at Freehold Subaru to test drive new Subaru models in Freehold. 
The Difference in Service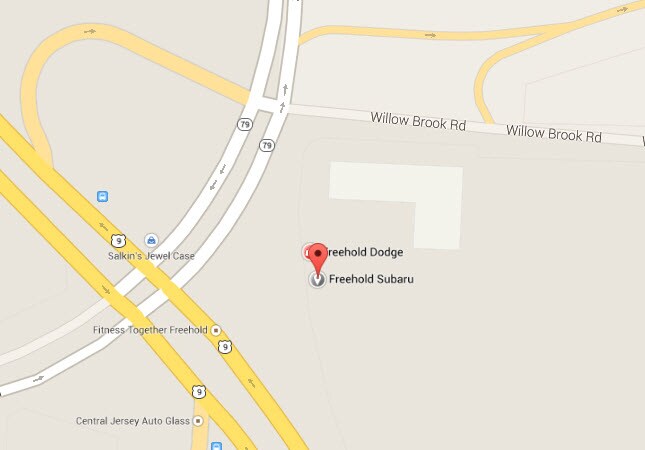 There are many dealerships that tout exceptional service. The difference at Freehold Subaru dealership is that it's true. From the minute you set foot into our dealership, our staff's sole goal is to earn your satisfaction. We will take the time to learn more about you and your needs. From there, we will work hard to help you find a Subaru that meets your desires and your budget. We offer a huge selection of new and pre-owned Subaru models at affordable prices. Moreover, our helpful finance team will work hard to help you secure the best deal on your new vehicle. 
Freehold Subaru is a premier Subaru dealer serving Freehold, Manalapan, Marlboro, Englishtown, Farmingdale and surrounding areas. Our great location at 299 South Street in Freehold makes it easy to get to us. Moreover, with a huge selection of new models ranging from the Subaru Legacy to the Subaru Impreza, you are sure to find what you are looking for here. To experience the best in service and selection, feel free to visit us. We'll be honored to earn your business.
Upcoming 2017 Events:
12th Annual Eat,Drink, and Be Caring Fundraiser to Benefit LADACIN Network
Nov 4, 2017 - 8:00 am
Epicenter - 55 Rt 9 South, Manalapan, NJ
Join in for this fundraiser provided by  The Turning Point restaurants to raise money for services and programs provided to infants, children, and adults with complex physical and developmental disabilities.
Spaghetti Dinner to Benefit Homeless Veterans
Nov 10, 2017 - 6:00 pm to 8:00 pm
Freehold Elks Lodge #1454 - 73 East Main Street, Downtown Freehold, NJ 07728
Come on out for this delicious dinner full of spaghetti, salad, meatballs, dessert, and coffee! This is to help homeless veterans transition from homeless shelters to their own apartments or homes! Help out with this Eagle Scout Project to make a difference.
Knob Hill Golf Club's Annual Thanksgiving Buffet
Nov 23, 2017 - 12:00 pm to 4:00 pm
Knob Hill Golf Club - 1 Shinnecock Dr, Manalapan, NJ 07726
Save the date for this once-a-year event! Reservations are required to get your seat at the table!