So you're experiencing some car troubles. Your car is overheating, its gears are slipping, and there's a weird grinding sound coming from your engine. While there could be any number of internal malfunctions, low fluid levels could be the main culprit, especially if you skipped your last inspection.
Your car uses seven fluids-motor oil, coolant, brake fluid, transmission fluid, power steering fluid, battery fluid, and windshield wiper fluid-to keep its internal systems in tip-top shape. If any of its fluids drop to dangerous levels, your car could fall victim to corrosion or overheating plus expensive repairs.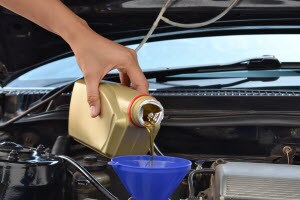 If you're a car owner in Freehold, Farmingdale, or Morganville, look at your owner's manual for fluid change intervals before scheduling an appointment at Freehold Subaru for maintenance for a change, flush, or refill. If you'd like to learn more about your car's fluids, read our guide below.
Motor Oil
Located within the shadowy confines of your combustion engine, motor oil lubricates the engine's crank case and prevents it from overheating and seizing. If too much heat and friction occur, your car is in trouble. We're talking about extensive cleanings, expensive replacements, and thousands of dollars' worth of repairs.
Do yourself a favor and change your motor oil every three months or 3,000 miles, whichever comes first, to take the pressure off your engine.
Brake Fluid
Brake fluid levels usually go unmonitored but are integral to your car's safety. If they dry out, your brakes stop working properly and you may lose control of the car. Maybe your mechanic was onto something after all.
Check your brake fluid about once a month to make sure the level is sufficient.
Coolant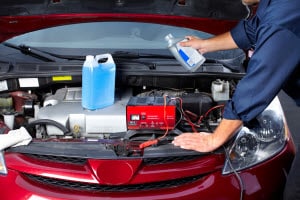 Coolant collects heat from your car's engine and sends it to the radiator before being dispelled into the air. Check your coolant every three months to keep your car from overheating.
Transmission Fluid
Transmission fluid
 lubricates and cools the inside of your car's transmission to keep it from overheating. It serves a similar function as motor oil and should be checked every 30,000 miles.
Power Steering Fluid
Power steering fluid uses a small hydraulic pump to improve your car's ability to turn sharp corners. It increases your steering wheel's direction over the tires. Maintenance intervals vary by manufacturer, so check your owner's manual for more information on power steering fluid changes and flushes.
Battery Fluid
Battery fluid usually drops if your battery is overheating. Your mechanic can fill the battery cell with distilled water so it runs properly.
Windshield Wiper Fluid
Windshield wiper fluid is a convenient, nonessential feature for cleaning your car. Freehold Subaru would be happy to replace it for you once you run low.
Schedule Maintenance at Freehold Subaru
The next time that you need to change your fluid levels, schedule a service appointment with Freehold Subaru near Freehold, Farmingdale, or Morganville.