The Subaru Legacy is one of the finest mid-size sedans on the road, offering consumers in Marlboro, Manalapan, Englishtown, and Freehold the incredible features and consistent performance they deserve. However, even the most reliable vehicle will eventually run into problems, and when there's an issue with your Legacy you'll almost always see a warning light lit on your dashboard.
Like all Subaru vehicles, the Legacy features multiple indicator and warning lights to let you know when your car isn't functioning as it should. So, learning about these lights is an important part of being a responsible car owner. Discover the variety of dashboard lights you might see while driving the 2017 Subaru Legacy, and find out how you can get easy, convenient repairs.
Yellow Subaru Legacy Lights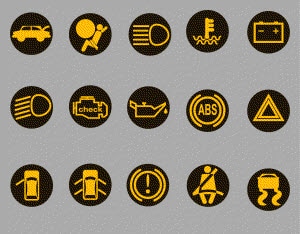 Generally, when a light activates on the dashboard of your Subaru Legacy, it will be one of many yellow indicator lights. The difficulty with these yellow lights is they can sometimes mean your vehicle needs immediate service, while other times you can delay getting maintenance for your car. Common yellow lights you may encounter in your legacy include:
Anti-Lock Braking: If you see the letters 'ABS' light up while driving your legacy, there has been a malfunction with your vehicle's anti-lock braking system. Anti-lock braking issues can be very serious and should be addressed by a service professional.
Check Engine: The check engine light in your legacy looks like the words 'Check Engine,' and can be activated by a wide variety of issues, including a loose gas cap. If addressing minor problems doesn't deactivate this light, you should schedule a maintenance check.
Low Fluid: Several yellow indicator lights in your legacy are used to alert you to low fluid levels. A fuel pump, for example, means your gas is low, and a yellow oil lamp means your car is running out of oil. If you see these lights, top off your levels as soon as you are able to do so.
Subaru Legacy Red Warning Lights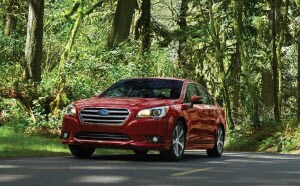 A more serious situation is when you see a red warning light on the dash of your Legacy. A red light almost always activates when there is a major problem with your vehicle, indicating it needs service immediately. These lights can include:
SRS Airbag: A seated passenger with a deployed airbag in front illuminates when there is an issue with your vehicle's airbag system. This light needs to be addressed right away as it means your airbags may not activate if an accident were to occur.
Charging System: If your Legacy's engine is turned on and you see a light that looks like a car battery, your charging system may not be active. Take your vehicle to a maintenance technician when this light is active.
Braking System: An exclamation point inside of a circle surrounding by parentheses means a failure has occurred within your car's braking system. Driving your Legacy when this light is active can be very dangerous and should be avoided.
Service Your 2017 Subaru Legacy
After reading our Subaru Legacy Light Guide, if you see any of these lights while driving around Freehold, Manalapan, Marlboro, or Englishtown, you know to schedule a tune-up with the service and parts department at Freehold Subaru.
Freehold Subaru is proud to offer comprehensive dealership services to our customers, and we are your top source whether you need service or are in the market for a new Subaru vehicle. Schedule service with us today!