If you're looking around for a new SUV, then you should consider either the Subaru Crosstrek or the Mitsubishi Outlander. Both of these vehicles are highly rated, but for drivers like you in the Freehold, Farmingdale and Manalapan area, we're going to be looking a little closer at these two vehicles. In this vehicle comparison, we're going to focus on things like technology, entertainment and safety features. By the end of this article, you'll have a more clear idea as to which of these comparable SUVs offers more for you.
Subaru Crosstrek vs. Mitsubishi Outlander Technology & Entertainment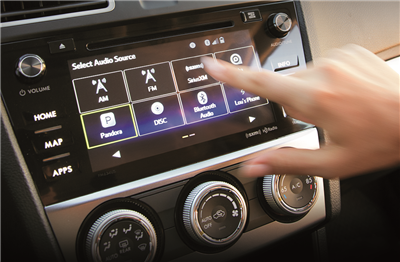 The 2016 Subaru Crosstrek features the STARLINK™ system, which includes a 6.2-inch touchscreen display. This system also includes a CD player and an HD Radio®. HD Radio® provides a higher quality sound for standard AM/FM stations. Lovers of talk radio will enjoy the lack of irritating buzz that usually comes with AM radio stations. The Subaru Crosstrek also features Bluetooth® connectivity, which allows you to make and receive phone calls while driving. For convenience, the Bluetooth®, audio and cruise controls can be accessed via the steering wheel.
The 2016 Mitsubishi Outlander features an AM/FM radio and a CD/MP3 player. The base trim doesn't come with a touchscreen display; however, this vehicle features the FUSE hands-free Link System®, which allows you to sync your phone with the vehicle's sound system. For convenience, the audio control can be accessed on the steering wheel. In this category, the advantage goes to the Subaru Crosstrek. It includes a touchscreen display, a higher quality radio and more steering wheel-mounted controls.
Safety Features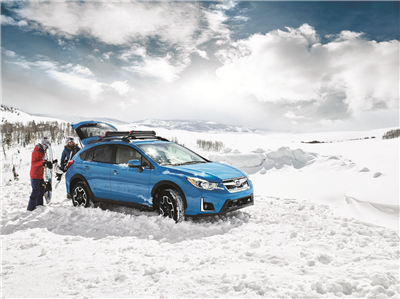 The Subaru Crosstrek and the Mitsubishi Outlander both feature an anti-lock braking system with brake assist and traction control. In terms of collision protection, both vehicles feature front airbags, seat-mounted side airbags, side-curtain airbags for front and rear passengers, and a driver's knee airbag. The safety features of both vehicles seem similar; however, safety ratings tell a different story.
According to the Insurance Institute for Highway Safety crash tests, both vehicles performed so well that they were voted as Top Safety Picks, but the Subaru Crosstrek received a superior score in its front crash prevention. The Mitsubishi Outlander received an advanced score. According to the National Highway Traffic Safety Administration crash tests, the Subaru Crosstrek received an overall 5-star rating. The Mitsubishi Outlander only received an overall 4-star rating with its NHTSA crash tests.
2016 Subaru Crosstrek vs. 2016 Mitsubishi Outlander Comparison Conclusion
In this vehicle comparison, you learned all about the key features of these two SUVs. You learned that the Subaru Crosstrek offers more technological amenities than the Mitsubishi Outlander. You also learned that each vehicle offers similar safety features, but the Subaru Crosstrek scored higher with its IIHS and NHTSA crash tests. Overall, you learned that the Subaru Crosstrek offers more for you.
Schedule a test drive with the 2016 Subaru Crosstrek at Freehold Subaru, your go-to dealership in the Freehold, Farmingdale and Manalapan area.