The Subaru Legacy is a sedan that conveys class and style. It consistently earns top safety awards, and the 2015 model does not stray from that path. Built to be safer than ever, the 2015 Subaru Legacy can now be found at Freehold Subaru.
The 2015 Legacy has already earned recognition from the Insurance Institute for Highway Safety (IIHS). The IIHS has rewarded the Legacy with top results in every category, including the Top Safety Pick+ award. Test drive the 2015 Subaru Legacy at Freehold Subaru or to learn more, see our 2015 Subaru Legacy review.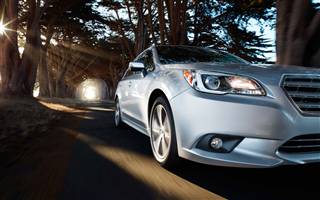 The 2015 design of the Legacy improves the driver's vision all around the vehicle. Slimmer roof pillars give way to larger windows and windshields so that you can see everything around you. And for those specific circumstances when your driving vision is hindered, the Legacy has adapted to accommodate you. With Blind Spot Detection, your 2015 Legacy will warn you when a vehicle is approaching you where you can't see it. An icon will light up in your side view mirror so it's especially easy to notice. The 2015 Legacy also comes with Cross Traffic Alert which will give you the clear when you're backing out of tricky parking spot in Freehold, Farmingdale or Manalapan.
These detection cameras are part of Subaru's EyeSight technology that uses radar to sense traffic or objects when driving. With the 2015 model of the Legacy, these cameras are upgraded to be smaller and work more effectively. They can detect glare, have a 40% better detection range, and since they are located inside of the Legacy's windshield, they will be harder to damage and cheaper to repair.
This EyeSight technology is extremely helpful when driving. With Driver Assist, your Legacy can sense cars in front of you. The technology can sense when you are about to collide with another vehicle, and your Legacy will automatically slow down and help you apply pressure to your brakes in a panic-stop situation. This also works to optimize cruise control and help decelerate on its own if you're approaching a vehicle too fast.
The 2015 Subaru Legacy come with a state of the art Boxer engine that is designed with a horizontal layout for a lower center of gravity. This low center of gravity improves your Legacy's reaction time and handling. The Boxer engine is also placed underneath the Legacy's front frame, which helps protect it in a front end collision while also working to distribute the impact pressure away from you and the passenger area.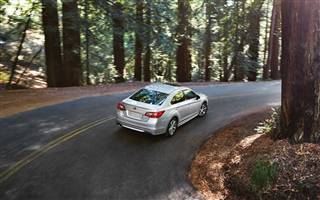 What you'll find from the all 2015 Subaru Legacy is that it is a sedan with luxurious characteristics, but it is also prepared for anything that comes in its way. It's designed for any terrain or weather condition, and its advanced technology is always working to keep you out of any accidents or collisions. See our comparison page to compare the 2015 Subaru Legacy to other models.
Residents of Freehold, Farmingdale or Manalapan can see the Legacy, along with our complete lineup of new Subaru models, at Freehold Subaru. An experienced member of our sales staff will answer any of your questions about the vehicle and will set you up with a test drive so you can fully experience its capabilities.