When you are looking for a stylish and practical sedan, there is no shortage of automobiles on the market to fit your criteria. Indeed the automobile market has never been better if you're looking for a four-door car that is not only practical to own but fun to drive as well. In this competitive market segment, car manufacturers you may not have considered in the past are making worthwhile and quality automobiles. In this article, we'll look at two for the 2015 model year. The 2015 Subaru Impreza and the 2015 Mazda 3.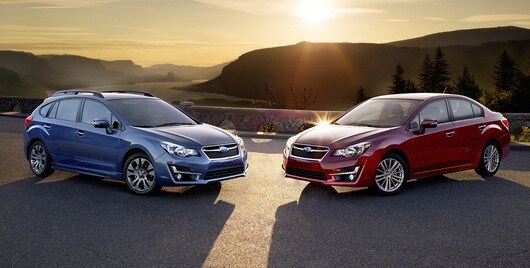 Exterior and Styling
The Impreza: for 2015, the Impreza took its styling cues from the Outback and Legacy. Front end changes were mild but brought the Impreza closer in style to other Subaru model lines. While previous years had sometimes boring appearances for 2015 this is not the case. In terms of the practical, it is smoother and with less drag. A sedan and a five-door wagon model are available.
The Mazda3: is a sporty little car. In an area where some automakers mail it in when it comes to look,s Mazda has style. The 3 is nice to look at. The lines are sharp and the front grille understated and well-shaped. 2015, however, did not see a lot of changes. But then again 2014's model looked good so there was no need to mess with it.
Interior and Features
The Impreza has always been a practical a car favoring substance over needless style. For 2015 Subaru increased the basic features adding several useful additions. Base features include: Bluetooth, USB connections, and iPod connectivity. Added for 2015 is a rear-view camera, cruise control, and a 6.2-inch touchscreen infotainment system. Options include: bigger wheels, a sunroof, heated seats, fog lamps, an improved sound system, HD radio, and a leather interior.
The Mazda3 has somewhat basic features and is somewhat snug. These include USB/AUX ports, push button start, an AM/FM radio, and air conditioner. Options include: a rear-view camera, heated seats, leather interior, Bluetooth, and an infotainment system.
Engine and Fuel Economy
The Impreza comes with a 2.0-liter four-cylinder engine with 145 horsepower stock. Where the Impreza truly shines is the fact it offers four wheel drive as a standard feature, one the only cars to do so. The sedan and hatchback models gets an estimated 28/37 MPG overall when coupled with the five speed CVT transmission. For manuals, it's a still impressive estimated at 25/34. Among four wheel drive cars, the Impreza is one of the most efficient on the market.
The Mazda3 comes stock with a 2.0-liter 155 horsepower four-cylinder engine. It's driven by a five speed front wheel drive transmission. In terms of fuel efficiency, the 3 gets an impressive estimated 30/41 MPG overall. An upgraded 2-5-liter engine increases horsepower to 184 but knocks fuel efficiency down a bit of an estimated 28/38 MPG.
When You Need To Buy an Automobile
When you're looking for an automobile dealership in the great area of Freehold, NJ, you have no shortage of choices. However, when looking for an automobile dealership you want to do business with one that is forthright, honest, and truly committed to customer service.
Freehold Subaru is committed to making your shopping experience a peaceful one. Our experienced staff can help you select the new or used car you're looking for. Our selection is most impressive and includes popular models like the 2015 Subaru Impreza. Conveniently located at 299 South Street Freehold, NJ 07728, you're invited to come down today for a free test drive.