The Subaru Outback and Nissan Rogue are two of the most highly-regarded name brand crossover SUVs on the market today. Both are high-quality vehicles that deliver outstanding fuel economy, performance and a wealth of great luxury, convenience and technology features in addition to the latest safety technology.
This can make it tough to decide which one to buy when you're looking for your next SUV. Read our direct side-by-side comparison of the 2017 Subaru Outback and the 2016 Nissan Rogue, and discover where Freehold, Manalapan, Marlboro and Englishtown drivers can test drive the winner. For a full review of the 2017 Subaru Outback, read here.
2017 Subaru Outback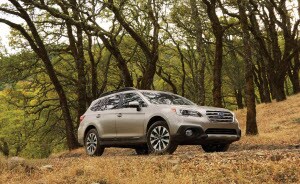 Among crossover SUVs, the 2017 Subaru Outback is in a class of its own. It comes with standard All-Wheel Drive and features more clearance than many other SUVs in its class. This high clearance makes the Outback ideal for driving in difficult environmental conditions such as deep snow and rocky terrain.
This coming year's model offers a new trim level - the Touring trim - which adds a number of luxury features other vehicles of its type don't have. In the end, it delivers the same utility of other cars in its class with greater convenience and comfort.
2016 Nissan Rogue
The Nissan Rogue, by comparison, is far more family oriented than it is rugged and capable of off-roading. It does seat up to seven passengers, which gives it a bit of an edge over the Outback's five-passenger capacity, but it doesn't offer a responsive or confident performance under the hood. It suffers from poor visibility out the back window.
Performance Comparison
The 2016 Rogue comes with a 2.5L 4-cylinder engine which kicks out 170 horsepower via a CVT. Its base power comes from front-wheel drive, though AWD can be had as an option. It has been tested to go from 0-60 in 9.3 seconds. The EPA-estimated fuel economy is 28 mpg.
On the other hand, the 2017 Outback comes with a 2.5-liter 4-cylinder engine which delivers 175 horsepower via standard AWD. The EPA-estimated fuel economy is also 28 mpg on the Outback. Higher-end trims allow an upgrade to a 3.6-L 6-cylinder that puts out 256 hp for superior performance.
Driving Experience
The real proof of performance between the Rogue and Outback is in the feeling when you drive. If you're just driving around town, the Rogue will work well enough, but when you hit the highway and put the gas pedal down, you'll notice some shaking and a lot of engine, road and wind noise. Also, it's not especially responsive.
The Outback, on the other hand, has confident acceleration, and maintains a smooth and quiet ride no matter where and when you're driving. This gives a distinctive edge to the Subaru Outback in the area where it counts the most: your experience while behind the wheel.
In the end, there's little doubt that drivers in the Freehold, Manalapan, Marlboro and Englishtown regions will love the new 2017 Subaru Outback. If you would like to test drive one of your own, stop into Freehold Subaru today or schedule a test drive online!