If you don't know what the differential in your Subaru is or what it does, you're not alone. Many drivers in Freehold and Farmingdale are unaware of the purpose of this part and just how important it is to take care of it. At Freehold Subaru, we want all our customers to have all the information needed to maintain their vehicle's performance. That's why we've created your guide to Subaru differential services below.
What is a Differential?
The automotive differential works with the transmission to deliver power from your engine to the axles so your wheels can spin.  It also lets each drive wheel move at different speeds without hopping when turning and cornering.  
Usually, vehicles only have one differential, but since your Subaru comes standard with Symmetrical All-Wheel Drive, it has three - one for the front set of wheels, one for the set in the back and one in the middle of the two to compensate for their speed differences.
How Do I Take Care of It?
A Subaru differential is, unfortunately, one of the most overlooked parts. As a result, many drivers miss out on essential services, and vehicles start to suffer from damaged gears and overheating. Routine Subaru differential services are the best way to make sure this essential part continues to perform smoothly and seamlessly. It lets professionals take a closer look at all the gears and mechanisms within the system. They'll inspect for damage and repair any problems if necessary.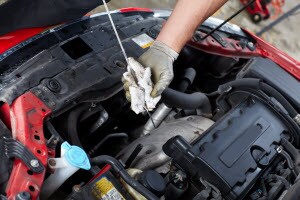 A differential fluid change also happens with each service. Fluid is a key component to the proper function of this part. It lubricates the internal gears to ensure everything works efficiently. But as it starts to contaminate and wear down, the differential will start to malfunction causing overheating and costly repairs. A simple fluid differential can help you avoid damage and help you save some cash, and because of this, it plays a critical part in proper care and maintenance for your vehicle.
Where Should I Go for Differential Services?
You'll want to schedule your Subaru differential services about every 30,000 miles. However, if you notice a whirring or rumbling sound when driving more than 15 mph or while stopping, a constant clunking noise, or skipping when turning, then you'll need to have a professional service to repair your differential immediately.
You'll also want to make sure you take your car to Freehold Subaru for your service appointment. Our state-of-the-art service facility has the tools and trained technicians for quality maintenance that will keep your car running smoothly for years to come.
Your car can't run without a differential, so make sure to take proper care of it to preserve your vehicle's health and performance. At Freehold Subaru, we're dedicated in providing the highest levels of automotive service to make sure your car runs like new longer. So if you need to schedule your Subaru differential service, visit our service facility in Freehold or call (888) 684-6802 now.