The Subaru Crosstrek and the Ford Focus are both a high-performing and reliable vehicles which are well-regarded and receive excellent reviews across the board. Many people wonder, when determining which vehicle to buy for their family, which one would best suit their needs. That's why we invite you to read a direct, side-by-side review of the 2017 Subaru Crosstrek and the 2017 Ford Focus so that our drivers in Freehold, Manalapan, Marlboro and Englishtown can make an educated choice.
The 2017 Subaru Crosstrek underwent a major refresh last year in 2016, and this year receives a few minor upgrades which include a new profile and a few changes to the interior. A new Premium Special Edition model offers enhanced luxury and performance as well as comfort in the cabin that can't be matched by the focus, which is a bit more Spartan in design.
Technology features on the special edition include keyless entry, push-button start, satellite radio tuner and enhanced safety features including blind spot monitoring with rear cross traffic alerts. Luxury features include a gloss black cabin, leather-wrapped steering wheel, gear shifter and trim as well as ambient footwell lighting and alloy pedal covers.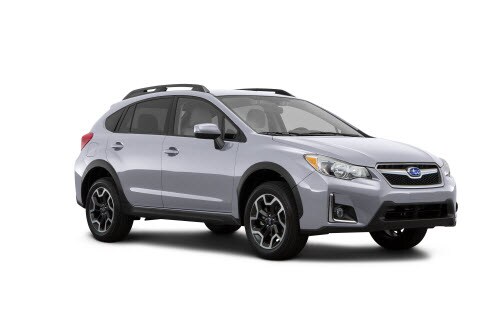 The updates on the Focus for this year, like those in the Crosstrek, are minimal and there's not much new to report. The newest upgrade is the appearance package which gives you foglights and a spoiler, and a cold weather package offering remote start and heated seats.
Standard features on the Focus include MyFord Sync infotainment, rearview camera and a four-speaker sound system with CD player. The high end SE gives you a power driver seat, Satellite Radio and a few other bells and whistles.
The 2017 Crosstrek is powered by a 2.0L four-cylinder engine which can kick out 150 horsepower via a CVT transmission and standard all-wheel drive. It offers confident acceleration and features an EPA-estimated fuel economy of 35 mpg highway and 24 in the city. Overall, this means that the crosstrek delivers where it counts.
The Ford Focus, on the other hand, is driven by a 2.5L four cylinder which is rated at 175 horsepower and an EPA-estimated fuel economy of 22 in the city and 34 in the highway. However, the Focus feels less powerful when you step on the gas pedal, especially considering that it has a smaller profile than the Crosstrek, which feels much more authoritative.
It's a really tough call which car to choose between the Crosstrek and the Focus. Considering that the Crosstrek comes in wagon and SUV configurations it will likely be far better for getting the family around town and to haul cargo. The Focus, while it has a larger and more powerful engine, delivers less confident power and doesn't have all-wheel drive. It also delivers slightly lower fuel efficiency overall.