Tires can't last forever, and Subaru owners can't wait forever to get their tires serviced. Service can involve little more than checking it out and giving it an "Okay." Other times, additional work on the tires and more becomes necessary. Our team at Freehold Subaru of certified professionals routinely perform tire service. They're ready to work on yours.
Wear, Tear, and Age
The more you drive on your tires, the more wear they experience. The treads get lower and lower until the tires aren't safe to drive. Our team will measure the treads to see how much life is left. Our inventory houses name-brand tires perfect for Subaru vehicles. You and our technicians can look over the inventory to choose the right replacements.
Age also affects the tires. So does adverse weather conditions. Both factors may cause dry rot, visible when the rubber cracks. Dry-rotted tires could experience a blowout, and that's not good. A thorough inspection of tires could determine if the current four need to be switched.
Punctures and Repairs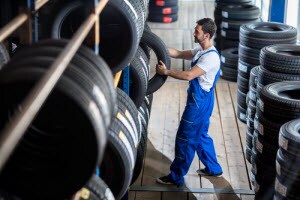 Is there anything more annoying than hitting a sharp object on the road and getting a flat? Nothing can turn back time and keep the flat from happening, but maybe we can repair the tire instead of replacing it. After performing leak detection steps, our team will determine where the leak is. If the puncture appears somewhere patchable, then we'll try to patch it. If not, the technicians will help you choose the right replacement.
Tire Checks and Rotations Near Farmingdale
Even if the tires are in good condition, you want a Subaru technician to perform a regular inspection. Checking the air and treads during every oil change might be wise. The tire techs can check the air pressure. You don't want to drive on over or under inflated tires.
Routine tire rotation requests help reduce the chances of uneven tire wear. Tire rotation jobs also provide an opportunity to check the brakes thoroughly. And maybe you need a wheel and tire alignment. We can handle that work, too.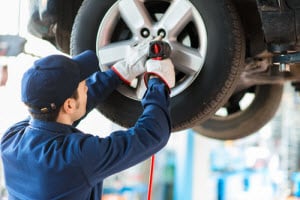 Hire Top Technicians Near Englishtown
At our Marlboro, NJ dealership, Subaru-certified technicians handle tire and other maintenance work. Your car, truck, or SUV will be in competent hands.
Subaru Tire Size Guide
The seemingly nonsensical mess of letters and numbers that represent tire size can be confusing. That is because tires are listed in metric size, which most American drivers are not familiar with. That's okay! We are happy to guide you along and, once you do know how to read tire sizes, you'll be a master at navigating inventories whether online or in-store.
A metric tire size will look something like 225/65R17. Though it looks complicated, it turns out that each of these numbers represent something specific. For instance, the first number corresponds with the three digits before the forward slash, indicating a tire's width. Following the sample size, they would be displayed in bold, like 225/65R17.
The next number ties to the two digits after the forward slash, depicting the aspect ratio or the correlation between height and width, as shown here: 225/
65
R17. This number is a percentage, so for the example, it'd be 65%. That percentage means that the tire's height is 65% of its width.
Don't get tripped up by the sudden appearance of a letter. The capital R simply stands for radial. Then, the numbers after the R indicate the radials that run across your tire. Thus, in 225/65R17, the 17 would represent wheel diameter of your car.
And that's all there is to it. Now you know how to read tire sizes.
Where to Get New Tires
Now that you know how to identify which tires are right for you, complete with comprehending your Subaru's specific tire size, the only thing left is to know where to get them. Easy! You need to go no further than right here at our Subaru dealership.
For drivers in the Freehold, Farmingdale, and Marlboro area, Freehold Subaru is eager to help you. With our expertly-staffed tire shop, we can assist you in finding the right tires for your Subaru. Browse our inventory online or come see us in store today, conveniently located at 229 South Street in Freehold, NJ.