There are many reasons why midsize sedans are a mainstay on American highways, but the major one is practicality and reliability. These cars are the right size to be easy to handle, and perform with enough power and torque to get people where they want to go, when they want to get there. The main trick for many drivers in Freehold, Marlboro, Manalapan, and Englishtown is deciding which of the many sedans out there is the best for them.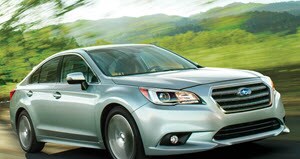 Among the class-leaders in these kinds of sedans are the Subaru Legacy and the Ford Fusion. Both are outstanding choices, but which one outperforms the other? Explore a side-by-side review of the 2017 Subaru Legacy and the 2017 Ford Fusion to discover which is the best sedan for your driving needs.
What's New This Year?
This year, Subaru unveils a new Sport trim level, which delivers special interior and exterior styling finishes. It also upgrades its EyeSight safety technology package with the addition of reverse automatic braking functions.
The Fusion, by comparison, gets a new version of its Sync 3 infotainment system and new high-end trim options, including a V6 sport model and a top-level Platinum trim as well as basic front styling retouches.
Fuel Efficiency
EPA-estimated fuel economy is one of the leading reasons people make the choices they do when it comes to mid-sized sedans. In these terms, the 2017 Subaru Legacy is the clear winner, putting out an EPA-estimated 25 mpg city and 34 mpg highway. By comparison, the new Ford Fusion delivers an EPA-estimates 21 mpg city and 32 highway.
Handling and Drive Experience
When it comes to driving experience, the Legacy again comes out as the winner. The Ford Fusion offers all-wheel drive but only at its higher-end-and higher-priced-models. The Legacy, on the other hand, comes with standard all-wheel drive. This means at the base level, you'll drive with much more ease in the Legacy.
Safety Features
Since vehicles in this class tend to be family vehicles more than anything else, safety is essential. If that's the case for you, you'll definitely want to look at the Subaru. It has a newly-updated version of the EyeSight safety system, which not only delivers features like a rearview camera, blind-spot monitoring, and rear cross-traffic alerts, collision warning and mitigation systems, and object detection, but allows them to all work together in a way that provides you a virtual brain while you're behind the wheel.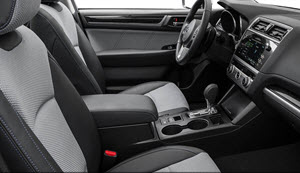 The Fusion is no slouch with its adaptive cruise control, lane-keeping, and other features, but it simply doesn't offer the range of technology that the Subaru has available. Both cars will keep you and your family safe on the road, but the Subaru comes out on top.
Check out the 2017 Subaru Legacy at Freehold Subaru
Our choice for the winner in this head-to-head matchup is the 2017 Subaru Legacy. While there's nothing wrong with the Ford Fusion-it's a remarkable performing vehicle that delivers a wealth of options and will keep you quite safe-the Legacy simply offers more, especially at lower trim levels.
If you'd like to test drive the new Subaru Legacy for yourself in the Marlboro, Manalapan, or Englishtown area, stop into Freehold Subaru today!