When buying a midsize sedan, there are many things to keep in mind. You want a reliable car that can get you from point A to point B, but you also want to be able to get there knowing that if anything were to happen, your vehicle will have the safety features you and your family need.
Introducing the all-new 2017 Subaru Legacy, the perfect midsize car for anyone looking for more than the average sedan. It now comes with a host of new safety features to ensure the well-being of its passengers.
Read on to learn more about how the 2017 Subaru Legacy was built to keep you and your family safe.
Safety Features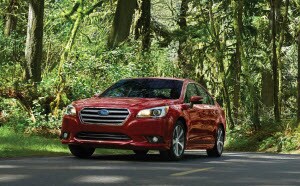 With a 5-star National Highway Traffic Safety Administration rating, safety is at the forefront of the Legacy's design. Features include EyeSight driver assist technology, which monitors traffic movement around you so you no longer have to worry about a blind spot. It also optimizes cruise control, lets you know whenever you're swaying outside your lane, and assists you in staying in yours. It also works to prevent accidents by slowing the car whenever danger is detected.
Features like Blind Spot Detection use radar sensors to warn you if a vehicle is in your blind spot, while Reverse Automatic Braking will automatically apply brakes to help prevent a collision. The Subaru Legacy also features Rear Cross-Traffic Alert, which tells you if there's traffic approaching from the side while you're backing up.
The 2017 Subaru Legacy also comes equipped with smart braking systems that prevent wheel lockup and help to maintain driver control over the vehicle. Electronic Brake-Force Distribution works to balance the braking, while Brake Assist senses panic-stop situations and responds by applying full braking to help to stop the vehicle faster.
Peace of Mind
The 2017 Subaru Legacy goes the extra mile to ensure that you're safe. This includes having Subaru's STARLINK Safety Plus Package that comes with Automatic Collision Notification, which alerts an advisor if an emergency were to arise, a potentially lifesaving feature. It also comes with enhanced roadside assistance and remote services that enable you to use your computer or mobile device to lock or unlock your vehicle.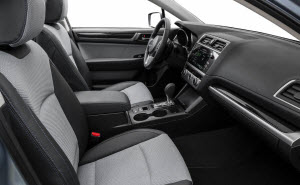 The 2017 Subaru Legacy has Symmetrical All-Wheel Drive, which delivers power to all 4 wheels for maximum traction and instinctively sends power to the wheels with the best traction. This feature helps you to stay on the road and prevents many types of collisions.
Schedule a Test Drive at Freehold Subaru
It's clear that the 2017 Subaru Legacy was made with your well-being in mind. These all-new features are here to ensure that you get the safest possible midsize sedan in the market. Purchasing these sedan means that you're not only investing in a quality car, but you're also investing in you and your family's future. Subaru vehicles are built with quality in mind, and this Legacy is no exception. Contact us today!
Come to Freehold Subaru to test drive the 2017 Subaru Legacy yourself!