Crossover SUVs are the perfect combination of performance, capability and style, which is why they're such a popular choice for many car buyers. Two of the top crossovers in the class are the 2018 Subaru Forester and the 2018 Toyota RAV4. Both offer versatility, aesthetic appeal and performance, but there are a few key differences between the two.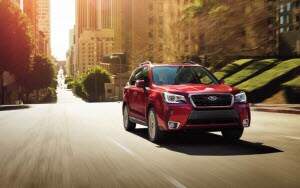 Drivers in Englishtown, Freehold, Manalapan and Marlboro can find out more about the performance, utility and technology for 2018 Subaru Forester and the 2018 Toyota RAV4 with this side-by-side comparison.
Style
Crossover SUVs are built for utility and function, but they can still be a stylish choice. The 2018 Subaru Forester offers a sleek, modern design, with an updated grille and unique headlights that capture attention. Inside, the Forester is filled with luxury accents and leather-trimmed upholstery that create an impressive look.
The 2018 Toyota RAV4 put more focus on its other attributes, since both its interior and exterior styling are uninspired and plain. When it comes to style, there's little else that can compare to the unique look and clean lines of the Forester.
Performance and Handling
Crossovers offer space and comfort, but one of their main perks is off-road capability. In the rugged, unpredictable environment, the Forester's symmetrical all-wheel drive and high ground clearance give you the ability to tackle any surface or grade, without sacrificing safety or stability. Unlike other crossovers, the Subaru Forester was designed with adventure in mind.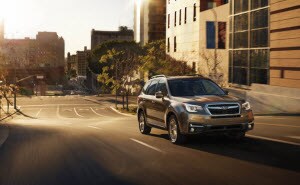 Those Subaru capabilities come in handy in bad weather as well. Whether you're on snow-covered roads, muddy dirt paths or torrential rain, the Forester won't lose its composure. Unfortunately, the RAV4 can't claim the same all-weather capability or off-road prowess, making it more of an around-town vehicle than a rugged contender.
Driver Assistance Features
Many auto manufacturers are releasing vehicles with their own version of driver assistance technology, but that doesn't mean they're created equally. The Forester's suite of driver assistance technology is at the top of the segment, including every modern feature that you could possibly want, especially if you intend to push the Forester to its off-road and performance limits.
Subaru's EyeSight Driver Assist Technology includes Lane Keeping Assist, Blind Spot Detection, Cross Traffic Alert and many other safety features that reduce the risk of collision and keep you alert. The RAV4 may have adequate safety, but it doesn't include many driver assistance features to improve its safety or convenience, let alone anything that could compete with the EyeSight Driver Assist Technology.
Test Drive the 2018 Subaru Forester at Freehold Subaru
Those in the market for a crossover SUV are looking for utility, space, comfort and performance, but the 2018 Subaru Forester takes that up a notch with its rugged capability, sleek, modern style and suite of cutting-edge driver assistance features. The RAV4 just can't provide the same all-around appeal. If you want more information about this versatile crossover, check out our 2018 Subaru Forester Review!
Drivers in Freehold, Englishtown, Manalapan and Marlboro can experience the security, versatility and performance of the 2018 Subaru Forester by visiting Freehold Subaru to schedule a test drive. Contact us today!