When it comes to crossover SUVs, it seems like there are an infinite number of options and every one of them has something remarkable to offer. For drivers in Manalapan, Englishtown, Freehold, and Marlboro, it can be confusing trying to decide which is the best choice for their work and play. For years, two of the more highly-regarded manufacturers out there is Subaru with its Crosstrek SUV along with the decades-long legacy of Jeep and its Renegade crossover.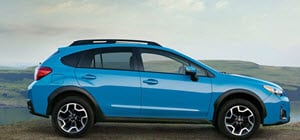 Which is better overall in terms of driving, performance, technology, and features? Check out a side-by-side comparison of the 2017 Subaru Crosstrek and the 2017 Jeep Renegade, and learn where to go to take a test drive.
2017 Subaru Crosstrek
Subaru's mainstay crossover SUV, the 2017 Subaru Crosstrek features a tall profile, all-wheel drive, and plenty of head and legroom in the front and rear. It delivers exceptional fuel economy and tons of storage space for hauling gear.
This year, the Crosstrek offers a new trim level in the form of the 2.0i Premium Special Edition trim. It also adds new safety features like blind-spot monitoring with rear cross-traffic alerts, and interior ambient lighting. There is no longer a hybrid version. Currently, the Crosstrek is available in four trim levels: the 2.0i, the Premium, Special Edition, and Limited trims. 
2017 Jeep Renegade
The Renegade has the Jeep badge behind it, which means a legacy of outstanding performance. It delivers a practical and fun driving experience with solid handling, a strong suite of technology features, and superior off-road capability.
This year sees very few changes in the Renegade, but new features include automatic high beams as well as keyless entry and ignition. Xenon headlights are coming later this year. It comes in four trim levels: the Sport, the Latitude, the Limited and the Trailhawk.
Base Features
The Subaru Crosstrek is driven by a two-liter four-cylinder engine, which delivers 148 hp and 145 lb-ft of torque. Base features include standard all-wheel drive, hill-hold assistance, five-speed manual transmission (CVT is available as an option), foglights, air conditioning, roof rails, a rear view camera, and an infotainment system powered by a 6.2-inch touchscreen. It features four speakers, smartphone app integration, and Bluetooth connectivity.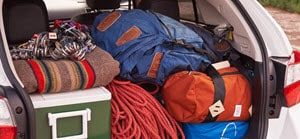 The Renegade, on the other hand, comes standard with keyless entry, driver information display, push-button start, and an audio system with four speakers, a USB port, and an auxiliary jack. In the end, the Crosstrek offers much more at the base level than the Renegade.
Comfort and Driving
The Subaru Crosstrek offers quite a comfortable and smooth ride, especially for a vehicle that sits as high as it does. There's plenty of room in both the front and the back seat and the controls are easy to use and intuitive. The high stance also offers supreme visibility and a small blind spot, while the cabin is built with high-quality upholstery and materials that give it a luxury feel.
The Renegade also offers a relatively comfortable interior with solid performance. With an infotainment system only available at higher trim levels, there are fewer controls to deal with at the basic trim, which aren't quite as easy as those in the Crosstrek. It's designed more for off-roading than daily use, and it shows.
Our Choice: Test Drive the New Crosstrek at Freehold Subaru
The Crosstrek and the Renegade are both superb vehicles, but when it comes to getting more bang for your buck, the Crosstrek comes out on top with better features at the base level, which only build as you go up. The Renegade, by comparison, works to catch up as it offers higher level features. If you'd like to test drive the 2017 Subaru Crosstrek in Manalapan, Englishtown, or Marlboro, stop into Freehold Subaru today!