Knowing how to check transmission fluid is just as important as knowing how and when to change engine oil. However, many drivers don't know that the transmission fluid needs regular maintenance.
Routine inspections of the transmission fluid and fluid replacement when needed can save drivers money over time. Drivers in the Freehold, Englishtown, Manalapan, and Marlboro areas can read this post to learn how to check the transmission fluid and see if any service is needed.
Is It Necessary to Check the Transmission Fluid?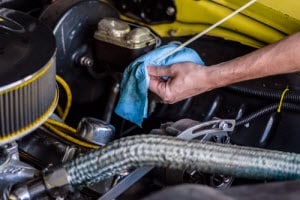 Doctors check blood to see if and why someone might be sick. Checking the transmission fluid is your technician's way of making sure the vehicle's transmission system is healthy. The transmission is a complicated and expensive piece of machinery. Therefore, you'll want to make sure you're checking for possible issues like a low fluid level or leak.
Your First Transmission Fluid Check
It's simple to check your transmission fluid, but you'll want to prepare first. Prior to checking the oil, make sure you have a white towel and your owner's manual handy. Then, turn on the engine and let the car heat up. This will allow you to get a better read of the transmission fluid.
Follow the Steps Below to Check Your Transmission Fluid
First, be sure to find the dipstick for the transmission. You should see it located on or next to the transmission.
Pull it out from the slot. The car should be in park, and the engine should still be on.
With the dipstick in hand, use the towel to clean off any fluid, and then look for the following...
Transmission Fluid Color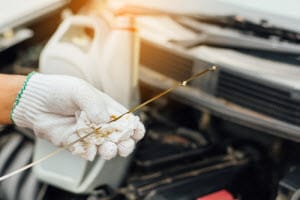 Bright red transmission fluid is healthy and clean. Transmission fluid that's dark red in color is normal for running vehicles and shouldn't be cause for alarm. If your transmission fluid is dark brown or black in color, then you'll want to have the vehicle inspected as soon as possible, as there could be serious issues with your transmission system.
Are There Any Strange Odors?
Fresh and healthy transmission fluid doesn't have a strong odor. Burnt smelling transmission fluid should be changed right away by a certified technician.
Inspect the Fluid Consistency
It's not uncommon for the transmission fluid in your car to be thicker, but you'll want to inspect it for debris or particles. The fluid should be clear of these elements.
Replace the dipstick, and take it out again. The dipstick features markings that can be used to help you determine fluid level and if you need to add additional fluid to the transmission.
At Freehold Subaru, we'd be happy to help you add transmission fluid, if any is needed.
Transmission Fluid Flushing & Replacement
Monitoring your transmission fluid is an important part of vehicle ownership. It can help keep your car running smoothly and even save you money.
Need help inspecting your transmission fluid? The friendly technicians at Freehold Subaru can help. We proudly serve the communities of Freehold, Englishtown, Manalapan, Marlboro, and beyond.