Every aspect of your car depends in some way on your battery. It's in many ways both the heartbeat and the central nervous system of your vehicle. Without a strong battery, your car won't start. It's important to take the right steps to make sure it stays strong during the coldest months of the year, so you don't end up stranded in an unfortunate situation. Discover everything you need to know about winter car battery maintenance to be sure your car starts right up every time during the cold months!
Winter Car Battery Maintenance
Everything you do in your car affects your battery charging system in some way. From running the radio to your heater, your headlights and your windshield wiper to some degree puts a demand on your electrical system and lowers the rate at which your battery charges.
That's right; your battery is to a certain degree rechargeable. While your car draws energy from it, it also puts energy back in. However, extreme cold conditions like those we experience in winter can drain your battery of about half its strength right off the bat. It also places a higher demand on your battery, which causes the power to turn over your engine to go down.
Unfortunately, all this happens at a time when your engine needs more power to turn over-you see, cold also means that your oil gets thicker and doesn't lubricate as well, and your fuel doesn't vaporize as efficiently. Both of these make it harder to start the car.
Try to Keep It Warm
Garage-kept cars tend to start much better in the winter than those left outside. If you can park your car in an enclosed area where the temperature can be better maintained, your battery will be better off. It won't lose as much power and it'll last longer.
Let It Charge
After you start your car, let it run for awhile without the heater on, without the headlights or wipers engaged, without the stereo playing. The less drain you put on the power system, the more effectively your battery will come back to full power, and the longer it'll last. Even an apparently "dead" battery that needed a jump to start the car can sometimes come back if left to charge long enough.
Get a Checkup at Freehold Subaru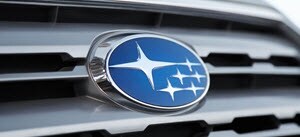 Routine maintenance is an essential part of any car's systems, and that goes for your battery and electrical system, too. Every winter you should bring your car into your local dealership and have a complete diagnostic run. This will help you understand how much life your battery has left, when it's time for a recharge, and when the battery has to be replaced.
At Freehold Subaru we offer these services to all of our customers in Marlboro, Englishtown and Manalapan, and while we're at it, we'll check your cables and terminals for corrosion to make sure you're getting the cleanest possible signal both to and from the core of your electrical system.
If you'd like to schedule a diagnostic or have any questions about winter car battery maintenance, give us a call or stop into our service center today!