When purchasing an SUV, you want to make sure that you are driving a vehicle that not only has plenty of space, but one that will keep you and your family safe. SUVs aren't used to move cargo or supplies, they are used to take your kids to school and are a staple in your family life. That's why you should make sure that the SUV you do purchase, has the safety features necessary to keep you safe.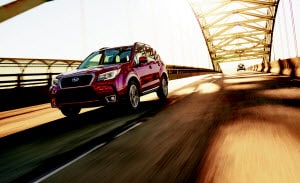 Introducing the all-new 2017 Subaru Forester, a compact SUV that was designed with your safety in mind. Your well-being is at the forefront of every Subaru design, and the 2017 Subaru Forester is no exception. So if you are in the market for an SUV with next level performance and features, continue reading to discover more about the 2017 Subaru Forester.
Advanced Safety Features
The 2017 Subaru Forester comes with a host of new features designed with the sole purpose of keeping you safe. Updates include Subaru's EyeSight Driver Assist Technology, which uses cameras with color to give you a much wider and longer field of vision. Also included is Lane Keep Assist, which will help you keep your car on the road. Rear Cross Traffic Alert and Blind Spot Detection warns you of potential dangers from vehicles that are entering your blind spot or approaching you when backing-up. Both are potential life saving features that you should keep in mind when considering purchasing the 2017 Subaru Forester.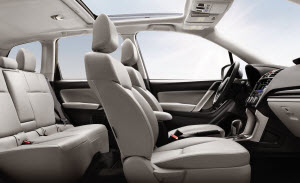 The Forester also features High Beam Assist, which works with the Eyesight driver assist system to switch your headlights between high and low settings based on the driving conditions. To further assist you when driving at night are Steering Responsive Headlights, which target the headlight beams in the direction you're traveling to give you improved lighting around curves. Also included is Reverse Automatic Braking, a new preventative safety feature designed to assist you while driving by detecting large objects to better prevent a crash. The system works by using four ultrasonic sonar sensors that will stop the vehicle if the driver is not able to respond.
Standard Symmetrical All-Wheel Drive with Off-Pavement Control Systems
The 2017 Subaru Forester comes with all-wheel drive which delivers continuous power to all four wheels and can automatically transfer more torque to the wheels with the best grip. An invaluable feature when driving in harsh conditions. It also integrates Vehicle Dynamics Control to further enhance stability and traction in all-weather conditions.
Visit Freehold Subaru to Test Drive the 2017 Subaru Forester
The 2017 Subaru Forester was designed with you and your family's wellbeing in mind to ensure safe driving around Freehold, Manalapan and Marlboro areas. Purchasing a Subaru is not only an investment in an automobile, but an investment in your future. Make sure to visit Freehold Subaru to schedule a test drive today and see these exciting new safety features for yourself! Our friendly associates are standing by to answer any questions you may have about the 2017 Subaru Forester. Contact us today!