When you're browsing for your next car for your trips around the Freehold, Englishtown, and Manalapan area, one of the most important factors that you have to consider is safety. Safety is crucial to selecting a midsize SUV because you and your passengers need to be protected. The Subaru Crosstrek has always been regarded as one of the safest vehicles in this category, so we're going to delve a little deeper to show you what kind of safety features this midsize SUV offers.
In this article, we'll be focusing on the different safety features of the 2017 Subaru Crosstrek. We'll be looking at the active safety features, the passive safety features, and the optional Eyesight® system. By learning about the safety features of the 2017 Subaru Crosstrek, you'll be able to decide if it offers enough protection for you and your family.
Subaru Crosstrek Safety Features: Active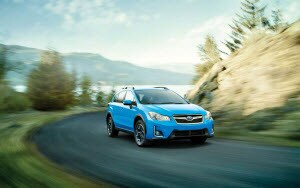 The Subaru Crosstrek features the Symmetrical All Wheel Drive system. This system gets power from the Subaru BOXER® engine, with its horizontally-opposed valves pushing force through the system to provide you with superior handling while executing evasive maneuvers. This system, combined with the anti-lock brakes, keeps you in control at all times.
This midsize SUV is also equipped with Vehicle Dynamics Control. This system activates during instances of wheel slip. It will provide brake pressure to the affected tires while dispersing torque to the tires with the most amount of traction to help keep your vehicle on its intended path.
Subaru Crosstrek Safety Features: Passive
This vehicle is equipped with an advanced airbag system. These airbags will adjust their rate of inflation in order to compensate for the force and severity of the collision. This vehicle features front airbags, side pelvis/torso airbags, side-curtain airbags, and a driver's knee airbag. The Subaru Crosstrek also features a ring-shaped reinforcement frame for exterior protection.
Subaru EyeSight® System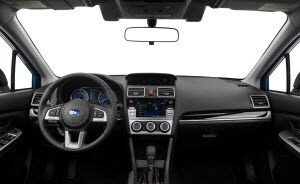 When you upgrade your Subaru Crosstrek, you have the option of selecting the EyeSight® system. This system is a bundle of driver-assisting technology that work with the four-camera system mounted on the windshield. This system includes Adaptive Cruise Control. This feature lets you set a speed, and even distance, from the vehicle ahead and it will maintain that safe distance even if the driver ahead of you is slowing down.
The EyeSight® system also includes Pre-Collision Braking. This feature will measure the distance between you and the object ahead, and it will notify you if a collision is imminent. It will even provide brake pressure, but driver response is required to come to a complete stop. The Lane Departure and Sway Warning helps keep your vehicle on its path by alerting you if you begin to stray from your lane.
Learn More About the Subaru Crosstrek Safety Features
In our review of the 2017 Subaru Crosstrek safety features, drivers from the Freehold, Englishtown, and Manalapan area caught a glimpse of the different systems offered with this midsize SUV. You saw that it offers an outstanding deal of protection and security. Learn more by taking the 2017 Subaru Crosstrek out on the road.