Seeing a live performance can be an inspiring experience, whether it's your favorite band, a hilarious stand-up comedian, or even a perfectly crafted and executed play. However, while the performances can be great, it all depends on the venue that's holding the event. Luckily, if you're trying to check out some performances in the Freehold area, we have found some of the best theaters in the area. These live theater venues near Freehold have a pretty impressive schedule of performances, so you'll want to pay close attention to see who or what is coming to town.
Count Basie Theater
99 Monmouth Street, Red Bank, NJ Facebook Instagram Twitter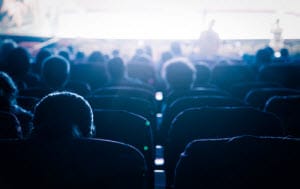 The Count Basie Theater in Freehold is a non-profit organization dedicated to fostering creative performances, artistic experiences, and the cultural arts. They offer classes for performing arts, music, and other artistic programs for the youth of the Freehold area. However, they also hold some exciting concerts and performances, including a celebration of 100 years of Frank Sinatra, Yes, Bernadette Peters, and Ben Folds. Check the schedule to see if you're interested in any of the shows coming up at the Count Basie Theater.
Paramount Theatre
1300 Ocean Avenue, Asbury Park, NJ Facebook
It's always fun to take a stroll on the boardwalk, especially when you have some time to kill before a show at the Paramount Theatre in Asbury Park. This exquisite theater is known for its impressive acoustics and stage visibility, as well as its 1,600-person capacity with several floor rows and balcony seats available. This impressive venue has a few notable shows coming up, including Splintered Sunlight (Grateful Dead Tribute Band), Dream Theater, and even Hot Tuna Electric. Be on the lookout for the lineup of great shows happening at the Paramount Theatre in Asbury Park.
Two River Theater
21 Bridge Avenue, Red Bank, NJ Facebook Instagram Twitter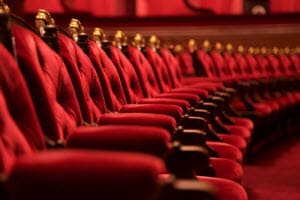 Two River Theater got its start in 1994 to help provide a world-class experience for the community of theater-goers. If you're a fan of plays, musicals, and classical theater, you'll love the productions at Two River. Recently, the theater held Crossing Borders, which was a festival featuring new plays by Latino playwrights. However, the theater does have some impressive plays coming up that you may want to reserve seats for.
Two Rivers Theater has several upcoming plays, including A Raisin in the Sun, Skeletons: A Day of the Dead Bedtime Story, The Importance of Being Earnest, The Rainbow Fish, and even The Young King. Be sure to check the schedule for Two Rivers Theater so you can stay on top of the latest shows coming to town that you can experience. You'll get the classic theater experience without having to cross the George Washington Bridge.
Getting out to see a live performance—whether it's a band, a comedian, or several local actors encompassing their characters—can be a fun and rewarding experience. Now that you're familiar with some of the best live theater venues near Freehold, you can plan your weekend entertainment accordingly.