There's nothing quite as satisfying as a burger. It's rather simple to get one by going to a drive-thru, but why don't you sacrifice the convenience of fast food and get an actual burger that was made with care and attention? Finding a great burger can be tricky, but we did the leg work and came up with a list that's easy to manage. This is our list of the best burgers near Marlboro, New Jersey.
Burger Bros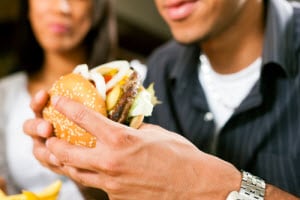 460 County Road 520, Marlboro, NJ
If you like variety with your burger, you may want to head to Burger Bros in Marlboro. This eatery utilizes the freshest ingredients, and their 100% certified Angus beef is free range and humanely raised at local farms. When it's time to decide on your burger, you have some tough choices to make because Burger Bros offers a variety of options like the Classic Hamburger and Cheeseburger, the Mac Daddy, and the Texas Showdown, which features Applewood smoked bacon, onion straws, chipotle ketchup, and cheddar cheese. Burger Bros even have milkshakes, so choose your favorite to complete your burger experience.
Café 360
34 East Main Street, Freehold, NJ
Café 360 offers you that classic diner experience, but with a modernized menu. While this restaurant offers all day breakfast on the weekends, you'll want to come in to check out their savory burger choices. You can choose your meat with options of an eight-ounce certified Angus patty, or a turkey burger, and even a wild-caught salmon burger. However, if you're a traditionalist, you'll love the Great Western, which is topped with bacon, cheddar, and fried onions and coated in BBQ sauce.
Jersey Freeze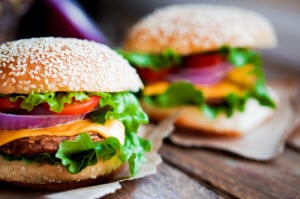 120 Manalapan Avenue, Freehold, NJ
When you're looking for a burger and you'll want ice cream afterwards, why not get them both at the same place? Jersey Freeze delivers premium soft serve, but they're also known for their burgers. The Jersey Giant is the go-to burger, as it features a seven-ounce beef patty with pork roll, cheese, and fried onions. You can even get the Breakfast Burger, which adds an egg to the equation. However, they also offer the Jersey Melt, which is a beef patty with Swiss cheese, bacon, and rye bread, adding a unique twist to the classic burger.
La Rosa Chicken & Grill
455 County Road 520, Marlboro Township, NJ
La Rosa Chicken & Grill offers family-style cuisine to their patrons. While they're most notably known for their chicken, it's actually their burgers that deserve some attention. Get the classic Cheese or Hamburger, or you can get adventurous with options like the Gorgonzola Burger. This burger is topped with bacon, sautéed onions, crumbled gorgonzola cheese, and mayo. You can even opt for the BLT burger to satisfy your burger needs.
There you have it, our list of the best burgers near Marlboro, New Jersey. It's up to you to decide on which of these restaurants delivers the best burger you've ever had.