There's nothing like enjoying some fresh and juicy barbecue during the summer. However, nothing complements the smoky flavors from the pit more than a crisp and refreshing craft beer. But these two great commodities don't have to be mutually exclusive. In fact, you can easily partake in both by checking out the 2017 BBQ & Craft Beer Festival that's happening soon at Monmouth Park! This is your guide to the festival so you can plan ahead and enjoy flavors from the grill and the tap.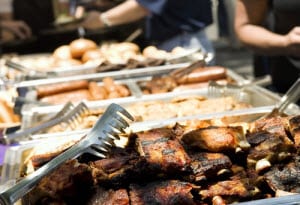 2017 BBQ & Craft Beer Festival Event Details
Save some room for some delicious food and beer to prepare for the 2017 BBQ & Craft Beer Festival beginning on Saturday, September 2nd, and going until Monday, the 4th at Monmouth Park Racetrack. The gates open at 11:30 AM each day, and the festival ends at 5:30 PM all three days. General admission and parking are $5 each, while children ages 12 and under can enjoy the festival for free.
Food & Drink at the 2017 BBQ & Craft Beer Festival
Get your bibs and hand wipes ready, because this festival is going to be a doozy. Local eateries will be dishing out their creations for festival-goers to enjoy. Some of the food will be coming from Chop Shop BBQ, Mary Queen of Pork, Local Smoke BBQ, One Big Party BBQ, and Surf BBQ, along with many other great eateries in the Monmouth County area.
Festival attendees can expect some great BBQ treats like pulled pork sandwiches, smoked sausage, beef brisket, slow smoked hot dogs, and of course, baby back ribs. There will be a variety of BBQ styles and flavors ranging from the Carolinas to St. Louis, so you can take a road trip with your taste buds. There will also be several dessert vendors, offering something sweet to tame the smoky flavors. Kona Ice, House of Cupcakes, Cold Stone Creamery, and Maddalena's Catering will all be in attendance to offer bite-size goodies.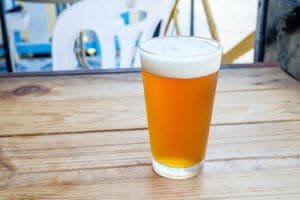 As for the craft beer, you'll be pleasantly surprised with the variety found at the festival, with more than 40 different styles and brews. For $10, you can get 10 2-oz. samples of different beers ranging from all types of styles like IPAs, lagers, wheats, stouts, and even sours. You'll get to taste the brews from local brewers, as well as nationally recognized microbreweries.
Festival Entertainment
There will be plenty of things going on during the festival to keep the entire family happy. There will be games, face painting, clowns, pony rides, and even a bounce house. As for live entertainment, Saturday is country music day presented by Thunder 106.3 FM. Sunday will feature a live performance from the Sundries, and Monday will close out the festival with Pez Head. Of course, there will also be horse races for you and your family to enjoy while you're at the festival.
Plan ahead with your family and friends so you can enjoy the 2017 BBQ & Craft Beer Festival at Monmouth Park Racetrack!