Juice bars have become increasingly popular over the years because it's a quick and easy way to get important nutrients and vitamins into your body with the added benefit of being delicious and satisfying. Whether you're on a diet or you're looking to quench your thirst with some delicious juices, we've done some research and found some of the best juice bars near Freehold, NJ. Find your favorite, so you'll always know that your favorite juice is a short drive away.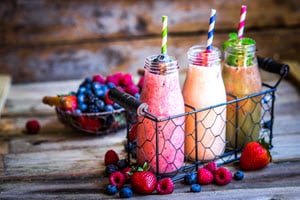 Drink Juice Bar
If you're looking for organic plant-based juices, you may want to check out Drink Juice Bar. This juice bar offers a variety of fresh juices that are made right on the spot. Each drink is expertly crafted with local organic produce that is vigorously washed before blended with other fresh ingredients to provide you with a satisfying and nutritious beverage.
Drink Juice Bar has a variety of great flavors like the Beta Booster, which features oranges, carrots, turmeric, and cinnamon. The Vitamin C Boost contains grapefruit, orange, apple, ginger, turmeric, lemon, and cilantro, which results in a zesty, crisp, and satisfying flavor. At Drink Juice Bar, you can even order smoothies, salads, and even fruit and veggie bowls.
Frutta Bowls
Due to the rise in popularity of acai bowls in California, the brains behind Frutta Bowls decided to bring the health-conscious style of the west coast to New Jersey. Stop in for a healthy yet delicious bowl! If you're on the run, though, simply enjoy the convenience of a drink, especially their smoothies.
The Brazilian Shake features organic acai, banana, and almond milk, resulting in a zesty flavor with every sip. You could always do with the Detox, which features kale, pineapple, chia seeds, and water. If you're looking for something with protein, the Whey Up features vanilla protein powder, banana, strawberries, peanut butter, and almond milk—perfect for a post-workout beverage.
Try Vegan
Food trucks are typically delicous, but have you ever tried one that served fresh organic vegetables with no animal products? Try Vegan is a food truck that has grown in popularity recently due to its menu that features a variety of healthy options that are also flavorful. This food truck offers fresh wraps, sandwiches, and salads that are sure to satisfy as well as nourish when you're out and about. However, if you're on the move, you may want to get a tasty smoothie.
If you're looking for something simple, try the Classic, which features strawberries and banana. The Greegan is a satisfying choice if you want something with kale and other vegetables. The Treat features a variety of different ingredients to produce a flavor that is reminiscent of a peanut butter cup.
That's our list of the best juice bars near Freehold. Stop by and sample some of the offerings of these locations to figure out your favorite flavors.