Introducing the 2022 Subaru Outback WildernessTM.
Adventure elevated.
The new 2022 Outback Wilderness has just arrived, and it's taking Subaru capability to new heights. With even more ground clearance, a turbocharged SUBARU BOXER® engine, and a drivetrain tuned for serious climbing, Outback Wilderness lets you go farther than a Subaru has ever gone before. The standard Symmetrical All-Wheel Drive is paired with aggressive new wheels and tough all-terrain tires, and the dual-function X-MODE® has new functionality for rugged terrain. Inside, you'll find our most technologically advanced interior yet, clad in durable StarTex® upholstery and showcasing an 11.6-inch standard touchscreen. With all the many upgrades and modifications, standard EyeSight® Driver Assist Technology
[1]
. and other safety features have been re-tuned to match the new vehicle height and off-road capabilities. Get ready to take your adventures to the next level in a new kind of Outback.
Rugged Exterior Styling
The Outback Wilderness is ready for real off-road adventure with tough exterior cladding in blacked-out trim and copper-finish accents, offering extra protection around the wheel wheels and lower impact zones.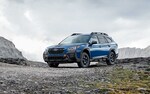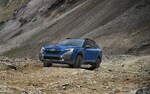 9.5 Inches of Ground Clearance with Front Skid Plate, Improved Angles, and Enhanced X-MODE
With an elevated ground clearance of 9.5 inches, you can take the Outback Wilderness into rougher terrain. The front and rear bumpers have been redesigned for improved approach, break-over, and departure angles, so you can easily clear larger obstacles. The dual-function X-MODE has also been upgraded and retuned, with settings for deep snow and mud that allow additional wheel slip to power through adverse conditions and stay enabled even above 25 miles per hour.
Standard Direct-Injection Turbocharged SUBARU BOXER Engine and Retuned Gearing
Outback Wilderness features a standard 260-horsepower direct-injection turbocharged SUBARU BOXER engine that delivers 277 pound-feet of torque and 3,500 pounds of towing capacity. The drivetrain features retuned gearing with a revised front and rear gear ratio for improved low-speed climbing – up to a 40 degree grade. It all powers our trail-proven standard Symmetrical All-Wheel Drive and makes the Outback Wilderness the most capable Subaru we've ever built.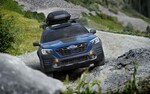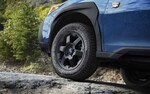 New Off-Road Wheels with All-Terrain Tires and Full-Size Spare
Standard new matte color off-road wheels and all-terrain Yokohama GEOLANDAR tires provide improved performance in all types of conditions – from mud, snow and gravel to boulder and rock. A full-size spare is hidden below the cargo area for extra peace of mind when you're out on the trail.
Anti-Glare Hood Design
The Outback Wilderness makes picking out your path a little easier with a uniquely designed hood that features a matte black accent to cut down on driver glare.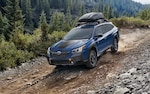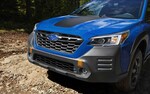 LED Fog Lights, and Front and Rear Tow Hooks
Rugged LED fog lights illuminate obstacles ahead and are set in eye-catching hexagon housings. Standard front and rear tow hooks with anodized copper-finish covers combine practical functionality and stylish design.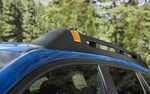 Redesigned Roof Rails
The redesigned roof rails are set off with anodized coper-finish accents and are able to support the weight of a rooftop tent, so you can quickly turn the Outback Wilderness into your comfortable expedition basecamp.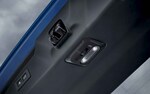 LED Cargo Lamp
Every aspect of the Outback Wilderness is designed for off-the-grid adventure, right down to the LED cargo lamp in the rear gate, which lets you find your gear or keep your card game going past sundown.
Re-tuned Standard EyeSight Driver Assist Technology
The standard EyeSight Driver Assist Technology and other safety features in the Outback Wilderness have been retuned by Subaru engineers to match its increased height and extensive upgrades.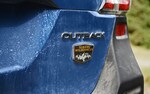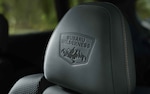 Textured StarTex Upholstery
The Outback Wilderness isn't just rugged on the outside. The cabin is protected with durable StarTex water-repellant upholstery featuring a textured honeycomb design.
Exclusive Interior Styling
The interior features high-quality materials with copper accents, trim, and contrast stitching for a premium look and feel that's exclusive to the Outback Wilderness.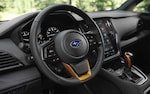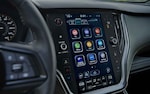 SUBARU STARLINK® Multimedia with 11.6-inch Touchscreen
The Outback Wilderness cabin is the most technologically advanced interior we've ever made. Its stunning centerpiece is the standard high-resolution 11.6-inch touchscreen, which provides easy and intuitive access to your apps, entertainment, and navigation on the STARLINK Multimedia system with Apple CarPlay® and Android Auto™ integration.
Built for the Toughest Trails
No matter how far you're going, you can count on the Outback Wilderness to get you there – 97% of Subaru Outback vehicles sold in the last 10 years are still on the road today[2].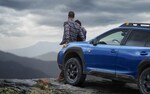 Find the SUV for Your Adventures with a New Subaru Outback Wilderness in Freehold, NJ
The Subaru Outback offers Marlboro Township drivers a reliable all-wheel drive SUV for all situations. This model has long been a trusted option of those that love to explore, and you'll get even more of that nature with the new Subaru Outback Wilderness. This unique trim level has a powerful engine, smart features, and a design ready for the toughest trails you'll set out on. As it was only recently introduced, we've seen questions about Subaru Outback Wilderness details, which is why we highlight below what makes this Subaru Outback trim near Tinton Falls so great!
What Makes the Subaru Outback Wilderness Unique?
The Subaru Outback Wilderness shares many features with our other Outback options. The Wilderness trim has a 260-horsepower engine, standard all-wheel drive, and items like water-repellant upholstery in the cabin. You can tow up to 3,500 pounds with this new SUV near Englishtown. You'll also enjoy technologies like an 11.6-inch touchscreen in the dash and advanced driver-assist safety measures!
What makes the Outback Wilderness different is that its engineering allows for an easier time on the toughest off-road adventures. It has a raised height that provides more ground clearance, up to 9.5 inches, and steel skid plates to protect the underbody. Even the drivetrain of the Subaru Outback Wilderness near Lakewood, NJ receives some changes so that it's better at low-speed climbing! If you want the comfort, reliability, and versatility of an Outback with an even more adventure-ready feel, the Wilderness trim is one to consider.
Learn About the New Subaru Outback Options Near Howell, NJ
The new Outback Wilderness is one of our many new Subaru SUVs for sale near Jackson, NJ. There are still more details to learn about it, which you can do when visiting our dealership. If you're looking for the right new vehicle for adventure, the new Subaru Outback Wilderness may be the perfect match!