The 2015 Subaru WRX is a highly-capable sport sedan designed to give you power and all-wheel drive performance. Backing the car's sport-tuned frame, the 2015 Subaru WRX is equipped with a wide variety of safety features to give drivers inFreehold, Farmingdale and Marlboro a confident, exhilarating and protected ride each time they get behind the wheel.
If you're interested in just how capable and dependable this sport sedan is, read on below for a quick glimpse into the safety features inside of the Subaru WRX.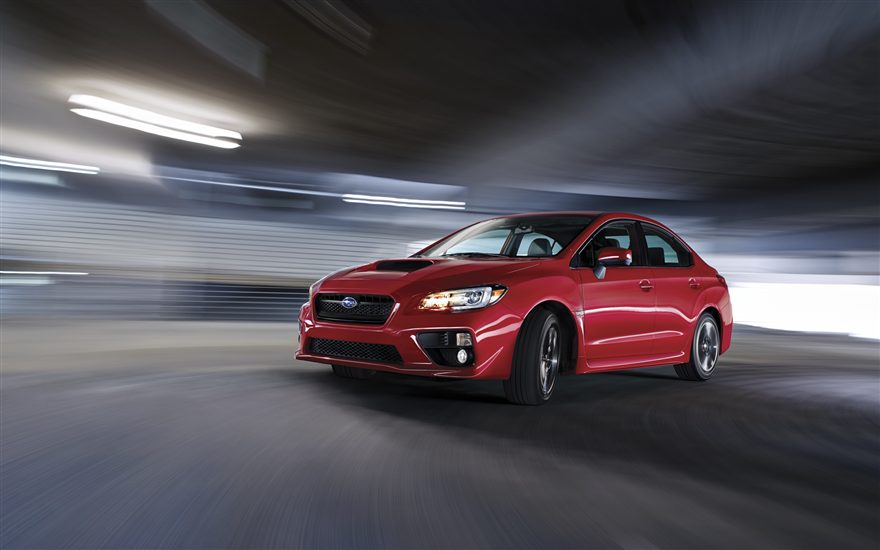 Symmetrical All-Wheel Drive
Standard on the 2015 Subaru WRX is a Symmetrical All-Wheel Drive system to provide a substantial distribution of power between the four wheels and to improve the vehicle's traction on any terrain. The system is designed to keep you safe by giving the driver more control, handling and response on all types of different road conditions. When roads are wet or icy, the All-Wheel Drive system will distribute power to the wheels that are gaining the most traction in order to keep you on the road and maintaining performance and handling.
Variable Torque Distribution
The 2015 Subaru WRX features a Sport Lineartronic transmission with Variable Torque Distribution. The system uses computer-controlled technology to monitor gear differential based on your driving dynamics. In short, by using expert technology, the 2015 Subaru WRX can identify your road conditions and when they change and will implement the perfect amount of torque to improve your handling and power. This gives you the ability to safely traverse off-road terrains without losing and control or overall performance.
Smart Braking Systems
To help prevent any collisions or accidents, the 2015 Subaru WRX has a number of smart braking systems installed. Antilock Braking Systems prevent wheel lock-up and maintain driver control even in slippery driving situations. Electronic Brake-force Distribution can send braking power to the wheels that need it most for a more balanced, precise stop. Brake Assist technology can sense panicked stopping situations, and will automatically apply pressure to help you stop faster.
Along with these smart braking the systems, the 2015 Subaru WRX also features front brakes that are larger and thicker than the vehicle's previous models. The improvement delivers outstanding braking ability on its own, but also works reduce the potential of brake fading and damage. This helps keep your brakes working and continuing to keep you safe out on the road.
The 2015 Subaru WRX is a high-performing sport sedan that is backed by a number of safety features that enhance the vehicle's driving ability, all while watching out for you and your passengers and keeping the driver in control at all times.
Residents of Freehold, Farmingdale and Marlboro can find the 2015 Subaru WRX at Freehold Subaru. Stop in today to learn more about the new features inside of the vehicle and to have a member of our professional sales team set you up on a test drive the same day you come in.