Are you looking for things to do in Freehold NJ? Well, Freehold, New Jersey is a beautiful community filled with many unique attractions. Here's just a sampling of what you'll find!
Community Attractions
Freehold is proud of its history and aims to teach residents about its unique past. There are historic site tours you can take to learn more about the city's history. One of these tours is of the West Freehold District, where you can visit a blacksmith's shop at the Oakley Farm Museum. 
The Monmouth County Historical Museum is an excellent place to learn more about the area's past. Currently, they are featuring the Battle of Monmouth exhibit, which includes guns from the Revolutionary War and a Carter painting of Molly Pitcher when she met George Washington.
There are also many historic homes in the area that show what life was like in the 1700s. A perfect example of this is the Holmes-Hendrickson House. Built around 1754, a wealthy farming family lived in this Dutch-style home. The Marlpit Hall was the home of a Loyalist family during colonial times.
Things to Do in Freehold NJ - Local Places to Visit
Downtown Freehold has something for everyone in the family. The summer concert series takes place each Thursday night throughout the summer and features a great mix of musical acts. In addition, the city holds the local farmers market from July 11 through October on Fridays from 10 am until 3 pm. This is a great way to buy fresh produce and support local vendors.
If you want an evening out on the town, there's a great mix of delicious restaurants to choose from, including Chinese and American cuisine. The city also has 45 shops, ranging from bakeries to elegant jewelry stores. Overall, no matter what you are in the mood for, you are sure to find it in Freehold.
To help you enjoy your trips in town in comfort, it's important that you have a reliable vehicle you are proud to drive. Subaru delivers well-crafted vehicles with vibrant designs and exceptional performance offerings, making a Subaru the ideal vehicle to drive through scenic New Jersey. If you are looking for a reputable dealership at which to purchase your Subaru, be sure to visit us at Freehold Subaru to test drive new Subaru models in Freehold. 
The Difference in Service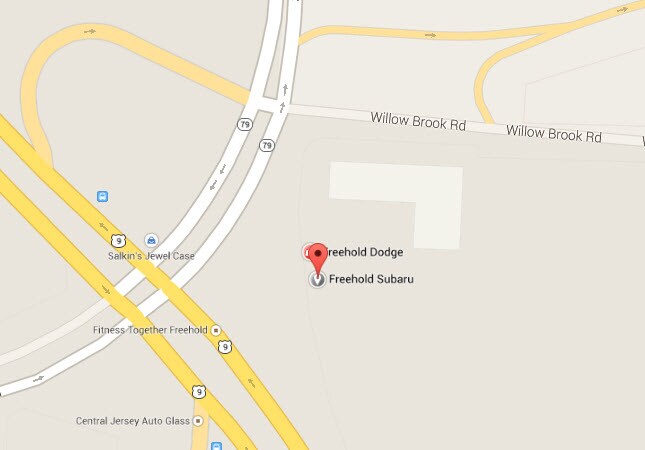 There are many dealerships that tout exceptional service. The difference at Freehold Subaru dealership is that it's true. From the minute you set foot into our dealership, our staff's sole goal is to earn your satisfaction. We will take the time to learn more about you and your needs. From there, we will work hard to help you find a Subaru that meets your desires and your budget. We offer a huge selection of new and pre-owned Subaru models at affordable prices. Moreover, our helpful finance team will work hard to help you secure the best deal on your new vehicle. 
Freehold Subaru is a premier Subaru dealer serving Freehold, Manalapan, Marlboro, Englishtown, Farmingdale and surrounding areas. Our great location at 299 South Street in Freehold makes it easy to get to us. Moreover, with a huge selection of new models ranging from the Subaru Legacy to the Subaru Impreza, you are sure to find what you are looking for here. To experience the best in service and selection, feel free to visit us. We'll be honored to earn your business.
Upcoming 2017 Events:
Karaoke Night at Knob Hill Country Lanes' Strikers Bar
October 6th, 2017 - 7:30pm
363 Route 33, Manalapan, NJ 07726
Join in and show off your pipes at the Karaoke nights. This happens every Friday starting at 7:30pm! Join in the fun and sing your favorite tunes!
Freehold CROP Hunger Walk
October 15, 2017 - 1:30pm 
St. Peter's Episcopal Church - 33 Throckmorton St, Freehold, NJ 07728
Join in for the CROP Hunger Walk! Help the hungry around the world, around the block and also those affected by Harvey and Irene. The walker with the highest donation total becomes the Walk Marshall! 25% of the proceeds will help local food pantries. 
Trunk of Treat
October 28, 2017 - 1:00pm to 4:00pm
Camp Topanemus Y - 380 Monmouth Road, Millstone off Rt. 537
Wear your costume and join us for Inflatables, Photo Op,Halloween Bingo & Treats. $20 per car ~OR~ register as a decorated treat trunk & attend FREE (Limited space, prize for most creative). Non members welcome.