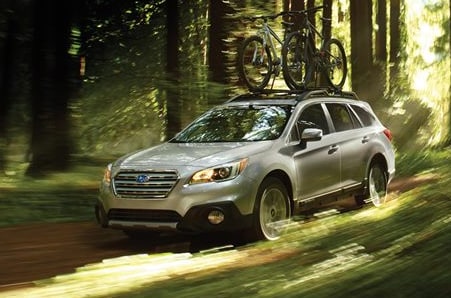 Subaru is a brand known for its innovation and intelligent designs. When you buy a Subaru, you know you are receiving a dependable vehicle that will deliver exceptional driving performance. If you are in the market for a new Subaru vehicle, finding a reputable dealership near Manalapan, Marlboro or Englishtown is simple: Freehold Subaru is a quick drive away.
What sets Freehold Subaru apart from other dealerships is our focus on delivering the best car buying experience. Our friendly sales staff isn't concerned with trying to pressure you into buying a vehicle. Instead, our attentive approach aims to learn more about you to find the right vehicle for you.
In addition to great service, we take some of the hassle out of the car buying experience. We know this is a big investment for you and that you want to do your research before buying your next vehicle. This is why we offer new Subaru models reviews, because we want to make your car buying experience easier.
You can find these in-depth reviews on our website. Our Subaru reviews examine each of the Subaru vehicles on our dealership lot, such as the Subaru Forester and the Subaru Impreza from their exterior design to their safety ratings. These well-written reviews help you learn more about each model so you can determine whether it is the right fit for you. We offer these reviews because we know your time is precious and we want to make it easy for you to find the vehicle you need while learning as much as you can about it.
Subaru Reviews - Freehold NJÂ 


2018
2018 Subaru Impreza
2018 Subaru WRX
2018 Subaru Outback
2018 Subaru Forester 
2018 Subaru Crosstrek
2018 Subaru Legacy
2017
2017 Subaru Forester Trim Levels Cargo Space
2017 Subaru Impreza
2017 Subaru Outback Trim Levels Cargo Space
2017 Subaru Legacy Trim Levels
2017 Subaru Crosstrek
2017 Subaru WRX
2016
2016 Subaru BRZ
2016 Subaru Crosstrek
2016 Subaru Crosstrek Hybrid
2016 Subaru Forester
2016 Subaru Impreza
2016 Subaru Legacy
2016 Subaru Outback
2016 Subaru WRX
Along with our vehicle reviews, when you visit our dealership you will discover that we have a diverse inventory of new and used Subaru vehicles. This means that when you visit us, you'll likely find a vehicle that matches your needs and fits well within your budget. Whether you are looking for a versatile vehicle that has a spacious interior like the Subaru Outback, or a stylish sports car like the Subaru BRZ, you are sure to find what you are looking for here.
Overall, Freehold Subaru would be proud to earn your business. Our Subaru reviews will provide you with all the information you need to make an informed decision. In addition, our diverse selection of new and used vehicles means you are likely to find what you are looking for here. Ultimately, Freehold Subaru is the best destination for Manalapan, Marlboro, Englishtown, Farmingdale and Morganville residents to buy their next Subaru.
Additional Resources